News 2017
08/12/2017 Opening for Gaia software developer at ARI in Heidelberg, Germany

The Astronomisches Rechen-Institut at Heidelberg University is opening a 3-years position for a software developer to work in the Gaia First Look group.

The Gaia First Look is the task to check on a daily basis, whether Gaia reaches the targeted level of precision and whether any problems have occurred on board Gaia. The selected person will participate in the advancements and maintenance of the Gaia First Look software and assist the First Look Scientists in investigating and interpreting potential problems and previously unperceived, subtle effects which could affect all data and potentially result in a loss or damage of many months of data if not detected in a timely manner.

More information on this vacancy can be found here.
08/12/2017 Release of a German Gaia stamp
Yesterday, on 7 December 2017 at 11:00 a German "Gaia-satellit" stamp was released along with a stamp on gravitational waves. Enjoy the fun sending Gaia stamps from Germany! Read more on the event and the special Gaia postcards here.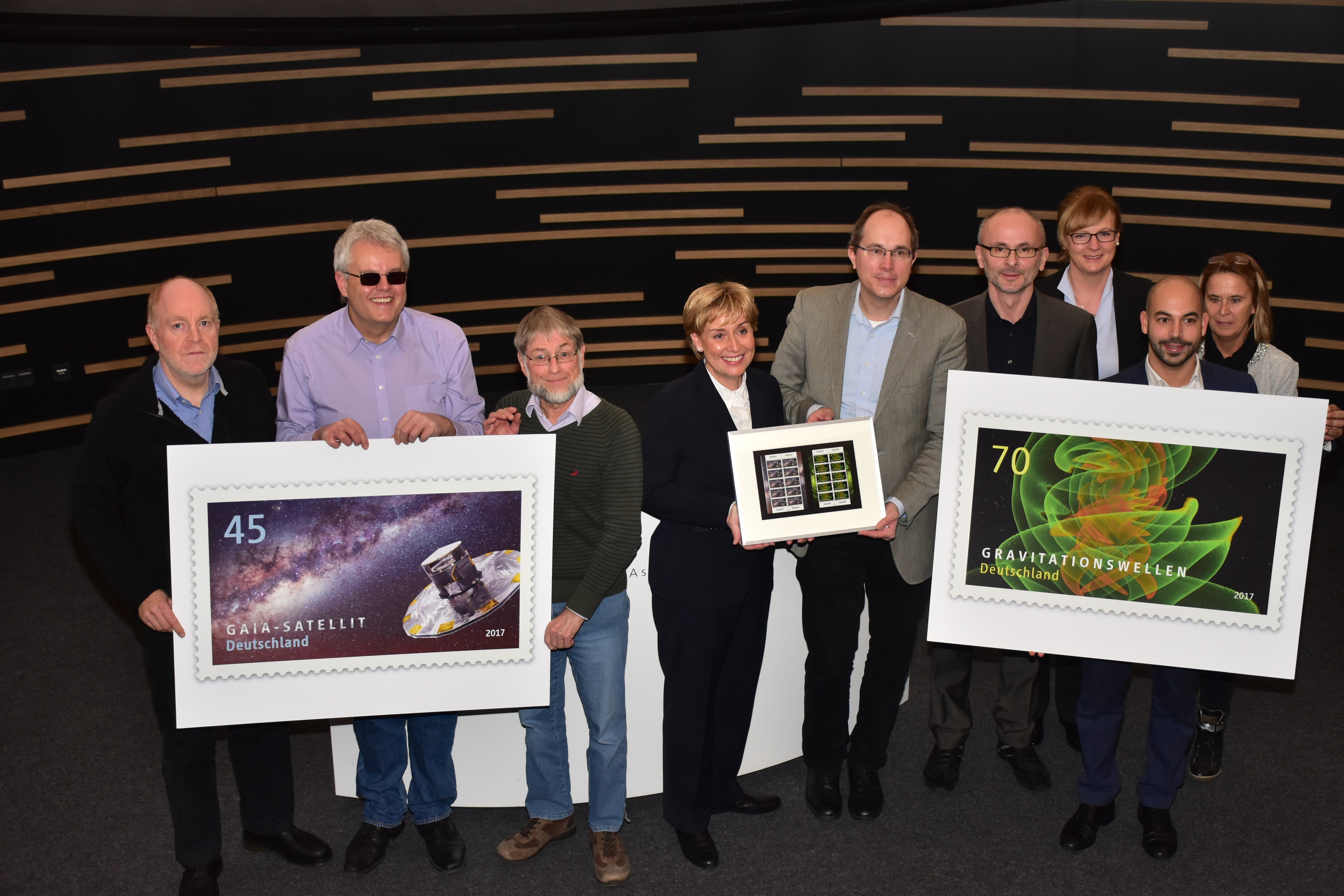 29/11/2017 Visualisation of a selection of asteroids detected by Gaia
Coordination Unit 4 of the Gaia Data Processing and Analysis Consortium is responsible for the processing of non-single stars, Solar System objects and extended objects. Gaia Data Release 2 will contain epoch astrometry for more than 13,000 known asteroids. The visualisation of these asteroids as detected by Gaia has just been published by ESA Science & Technology.
27/11/2017 Stellar motions in nearby galaxy hint at underlying dark matter
Read more on the newest story by ESA Science & Technology here.
23/11/2017 Vacancy: Young graduate traineeship for Astrophysics
Interested in working on Gaia data release 2 data as part of the Project Scientist team?
Gaia DR2 data will contain radial velocities for a few million of the brightest objects. The aim of the traineeship is to study the Gould Belt with Gaia DR2. The Gould Belt is a local, young, flattened, expanding "superstructure" in the disk of the Milky Way composed of open clusters, OB associations, gas and dust complexes and associated star-formation regions such as Ophiuchus and Orion.
The Gaia DR2 has significant potential for addressing various open issues linked to the Gould Belt such as stellar membership, kinematics, formation scenario, and the question of the propagation of triggered star formation.
More information on this traineeship can be found here. Closing date for applications is 17 December 2017. More Gaia vacancies are avaible from here.
22/11/2017 Gaia extension
The Science Programme Committee (SPC) has decided to extend the Gaia operations beyond the nominal 5 years until the end of 2020. Following the standard ESA science mission extension procedure this extension should be confirmed next year and a proposal for 2021-22 will be submitted for SPC approval.
17/11/2017 How do you find a star cluster?
On 15 November a story was published on the ESA Science & Technology website called "How do you find a star cluster? Easy, simply count the stars". A story on the discovery of the first Gaia cluster: Gaia 1.
13/10/2017 Opening of the Gaia Community Forum
Today we opened up our Gaia Community Forum. A place for users to discuss the Gaia mission and Gaia data. Feel free to browse around and start a discussion.
02/10/2017 Extra stars to help out the Triton occultation campaign
In order to facilitate earlier conducted Triton campaigns from September, we provide preliminary astrometry for an additional 334 stars available for download through the links below:
When using these data, please follow the acknowledgment and citation guidelines as given here.
Good luck with the observations!
30/09/2017 Gaia mission helps with Triton occultation observations
On Thursday 5 October an important and rare astronomical event will take place: Triton will be occulting a star (called UCAC4 410-143659 or GaiaDR2 2610107907030969600). This stellar occultation will be visible from Europe across the Atlantic to the USA. A predicted occultation path has been computed using the preliminary Gaia DR2 position and proper motion for this star.
The Triton position can, however, still be improved. In order to maximise the scientific output of the occultation event, we have decided to release astrometry for 119 stars in the field surrounding Triton at this moment. The most suitable stars between magnitudes 12 and 17 have been chosen for astrometric calibration purposes. Please note that full validation of the data is not yet done and therefore some caution is required when interpreting the results. Nevertheless, we believe the data will allow improvement of the occultation prediction.
Scientists using these data to improve Triton astrometry are encouraged to make their deduced positions public so that science return can be maximised for all groups observing the event. Please keep us informed of your efforts and results in this topic.
The 119 stars are available for download through the links below:
When using these data, please follow the acknowledgment and citation guidelines as given here.
Good luck with the observations!
14/09/2017 First birthday of Gaia Data Release 1

Exactly one year ago, we released our first data. Since the release, more than 170 refereed science papers used the Gaia DR1 data so far. If you are interested to check out any publications on Gaia, please have a look here.
11/09/2017 Programme for EWASS 2018 is now online

The programme for EWASS 2018 in Liverpool is now online. There will be a session dedicated to Gaia: "Gaia: The billion-star galaxy census: at the threshold of Gaia data release 2".
08/09/2017 Young Astronomer School on the Scientific Exploitation of the Gaia Data
The Doctoral School of Astronomy and Astrophysics of Paris and the Observatoire de Paris are organizing an international school for PhD and post-doctoral students on the scientific exploitation of the Gaia data and the study of the stellar populations of our Galaxy. It will be held in Paris (FIAP, Paris 14ème) from 26 February to 2 March 2018.
The school will propose lectures given by internationally recognized experts in the study of the formation and evolution of the Milky Way and will be accompanied by hands-on sessions. The school will allow the participants to master the knowledge and tools allowing them to manipulate and to explore the Gaia catalog and to derive properties necessary for the analysis of stellar populations, such as the age of stars, their orbits in the Galaxy, etc.
The application deadline is November 30, 2017, but the attendance is limited to 40-50 students and candidates are therefore strongly encouraged to apply as soon as possible. More information is available here.
08/09/2017 Vacancy: ESA Research Fellowships in Space Science
ESA has announced an opportunity for post-doctoral research fellowships linked to its science missions, including Gaia. Applications can be submitted until 2 October 2017. More details, including the detailed vacancies, can be found here. Addtional information is provided on the Research Fellowship website.
04/09/2017 Gaia Science Meeting in Lund
Last week a meeting "The science of Gaia and future challenges" took place in Lund, Sweden. About 100 people took part in this meeting that also marked the retirement of Lennart Lindegren. As of today, the slides of the presentations are available for download here.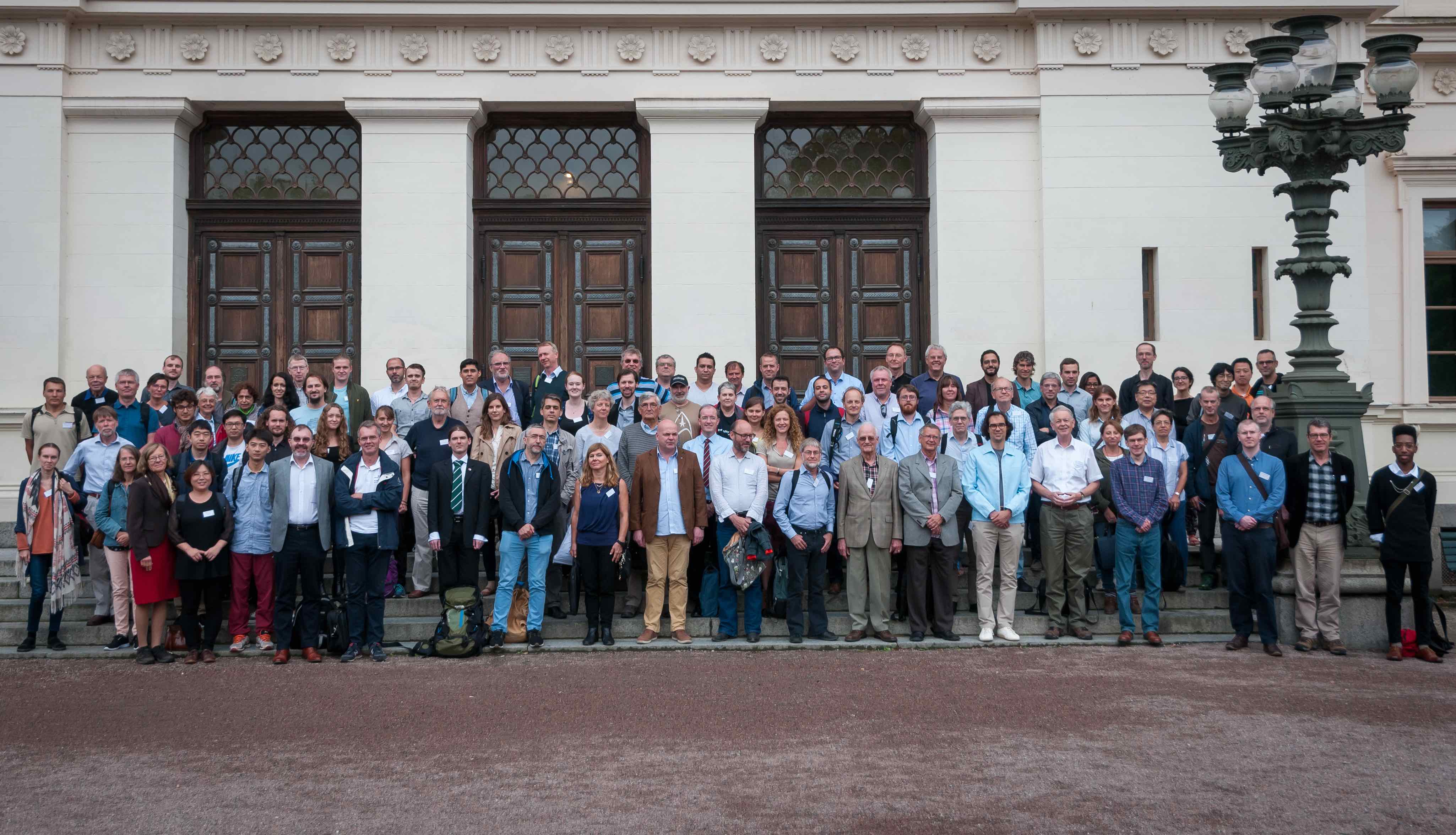 04/09/2017 Gaia Space Science Image of the Week
Today the Space Science image of the week features a Gaia sky mapper image taken on 7 February 2017. The image features part of the Sagittarius I Window (Sgr-I), located close to the Galactic Centre, and might contain some 2.8 million stars.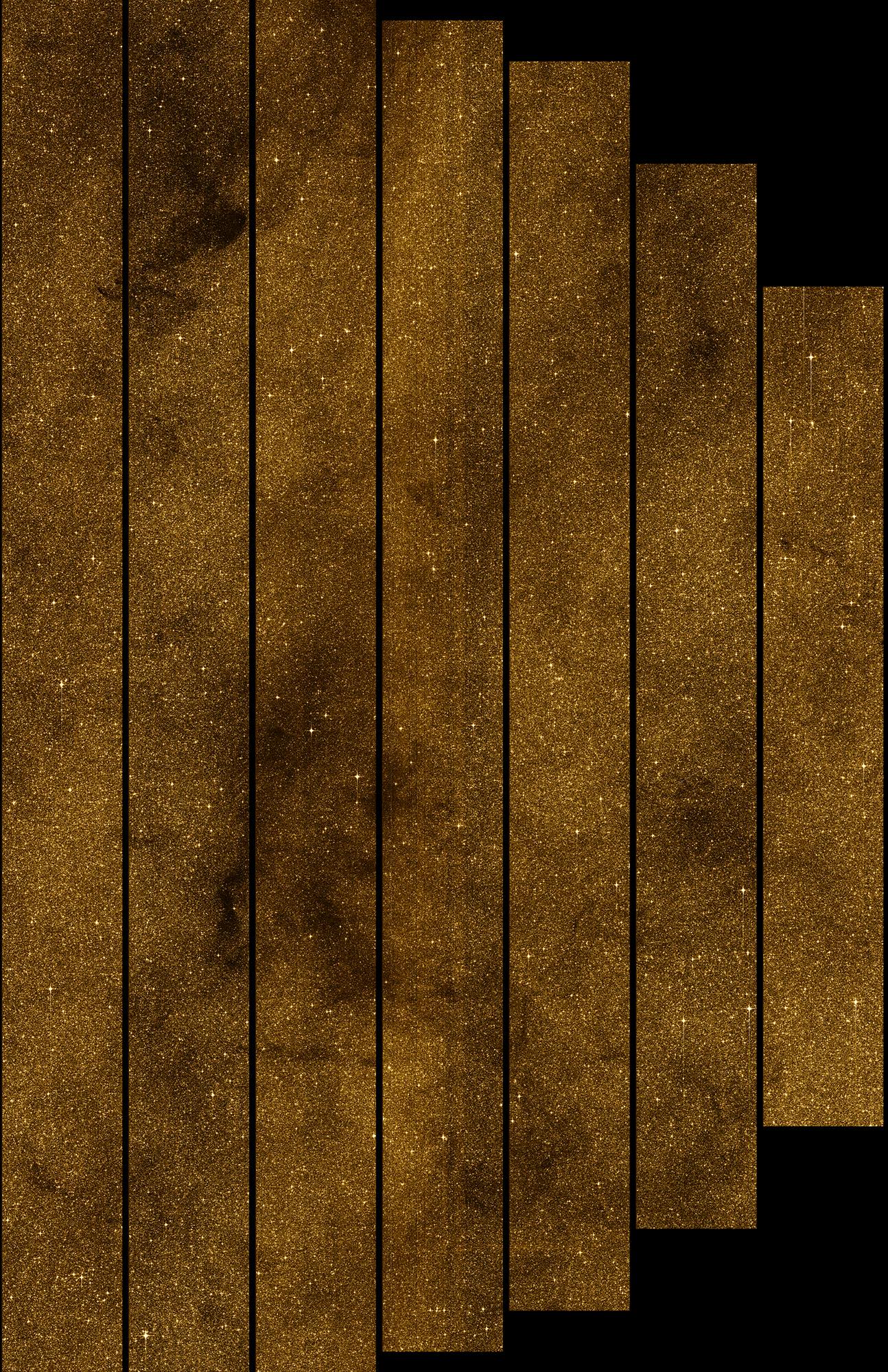 31/08/2017 Press releases on close stellar encounters
Today several videos were released by ESA to accompany the press release "Close encounters of the stellar kind". Our image of the week item on this topic can be found here. Enjoy!
30/08/2017 Interview with Lennart Lindegren kicking off the Gaia Science Meeting in Lund.
Today a three-day meeting called "The science of Gaia and future challenges" kicks off in Lund, Sweden. Home of the Lund Observatory, an institute involved in the Gaia Data Processing and Analysis Consortium (DPAC). The meeting also coincides with the retirement of Lennart Lindegren, one of Gaia's important faces. Here is in interview with him to start off this meeting with some in-depth knowledge on Gaia's history and Lennart's role in all of this. Thank you, Lennart, for your huge contribution to the Gaia mission and we are happy you will keep on working with us!
16/08/2017 Interview with Gaia Science Operations Manager: Uwe Lammers
Need some insight into Gaia Science Operations and the challenges that come with a satellite like Gaia? Have a look at this interview with Uwe Lammers.
04/08/2017 Open until the position is filled: postdoc at the Dr. Remeis-Sternwarte Bamberg
You are still invited to send in your applications for the post-doctoral position in stellar/Galactic astrophysics at the Dr. Remeis-Sternwarte Bamberg, University of Erlangen-Nuremberg (Germany). More information on this vacancy can be found here.
10/07/2017 Gaia wishes New Horizons success!
Gaia wishes the New Horizons team lots of success in the observation of the stellar occultation by MU69 today and on 17 July. More information on the occultation campaigns can be found here.
06/07/2017 Data Release Scenario Update
While Gaia DR2 is being processed, DPAC has looked into releases thereafter. By doing operational processing toward Gaia DR2, the knowledge of execution times can now be much better estimated. The major lesson learned is that for making a scientifically significant step forward, a reasonable time between releases is 2 rather than 1 year. A new release scenario for the nominal mission phase has been elaborated containing all the earlier planned elements, with releases in April 2018 (Gaia DR2), mid to end 2020 (Gaia DR3) and end 2022 (Gaia DR4). The anticipated contents can be found from the updated data release page.
30/06/2017 Asteroid Day
On Asteroid Day we would like to draw your attention to the Gaia Follow-Up Network for Solar System Objects (FUN-SSO). About 600 potential discoveries of Solar System Objects have been reported up till now. Anyone at the right place on Earth at the right time with the right size of telescope can help confirm these potential discoveries. A list of active alerts can be found here.
If you subscribe to the network, you can enter your location and telescope details. There is an active call at the moment for following-up on a candidate! Grab your chance and be the first to confirm!
26/06/2017 European Week of Astronomy and Space Science
Today the European Week of Astronomy and Space Science (EWASS 2017) took off with a news item on hypervelocity stars caught by Gaia. Join one of the plenty presentations sharing exciting Gaia science and certainly do not forget the plenary by Gaia DPAC chair Anthony Brown tomorrow at 11:30.
23/06/2017 Two Arthur C. Clarke Awards for Gaia teams
We are proud to announce that our Gaia teams won two Arthur C. Clarke awards, also known as Arthurs. The Industry/Project Team award went to Airbus Defence and Space "For the successful design and manufacture of the Gaia spacecraft and telescope which for the last 3 years has been accurately measuring the location and motion of the stars".
The second award was given to the UK Gaia Science Team. They won the Space Achievement - Academic Study/Research award "For its role in processing and analysing data from the Gaia star mapping mission as its contribution to the European Data Processing and Analysis Consortium".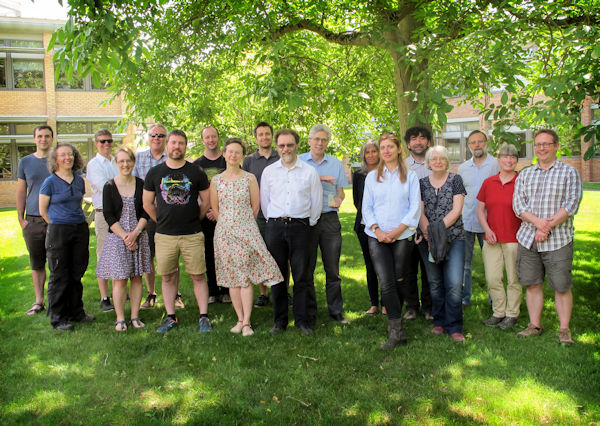 This latter award was presented by UK/ESA Astronaut Tim Peake to Gerry Gilmore (UK Gaia PI), Martin Barstow and Simon Hodgkin, who received it on behalf of the wider UK team. The award is made of glass, and is based on the monolith in Clarke's 2001: A Space Odyssey, with the same proportions (1:4:9).
20/06/2017 Celebrating 20 years of astrometric data from space
Almost 300 astronomers and astrophysicists from all over the world gathered in Venice on 13-16 May 1997 at the Hipparcos Venice 97 Symposium, organised by the European Space Agency. This symposium marked the public release of the Hipparcos and Tycho Catalogues, which took place in June 1997, twenty years ago.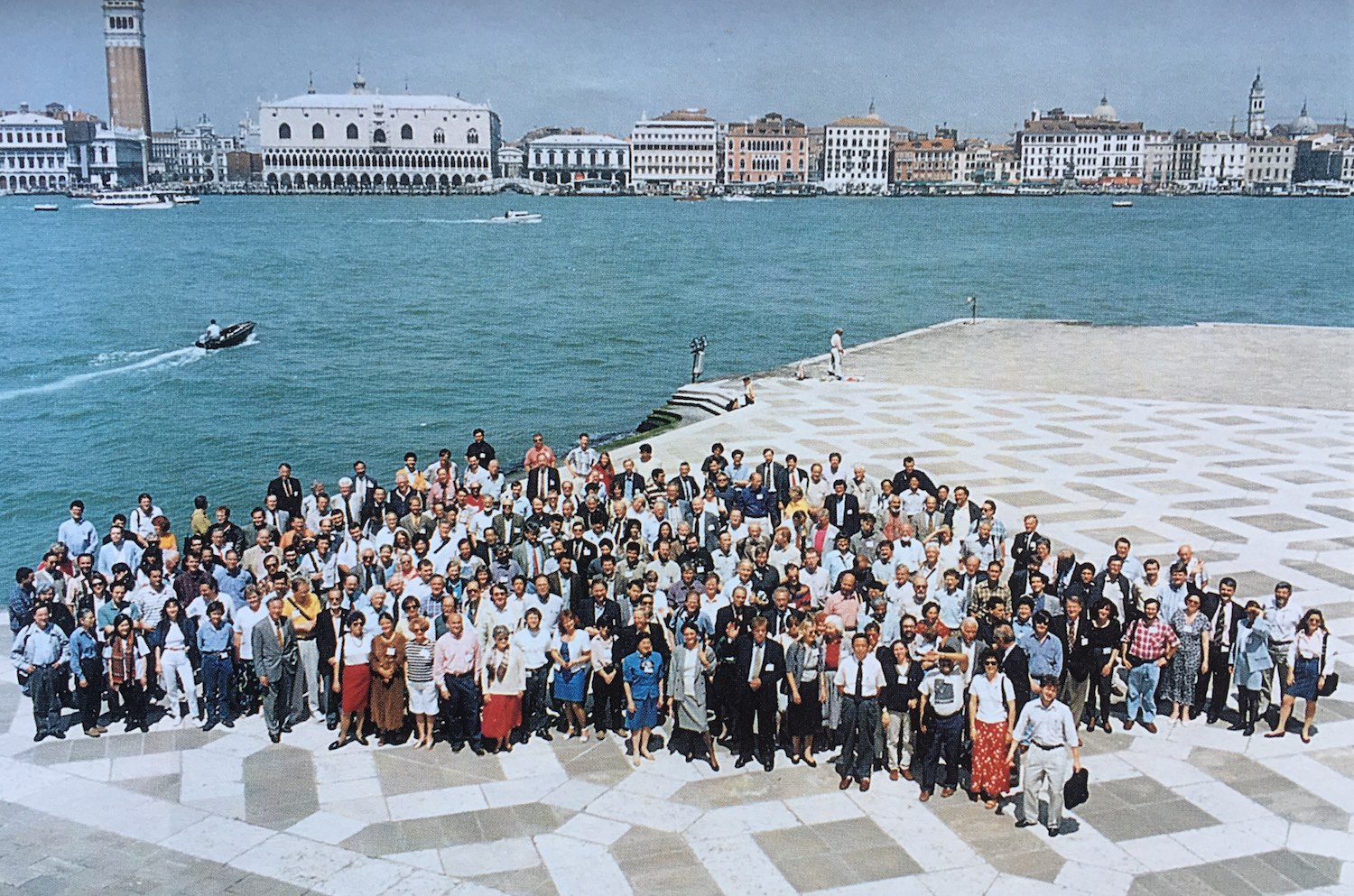 The parallaxes and proper motions of the 117,955 stars contained in the Hipparcos Catalogue have meanwhile generated more than 2,400 refereed articles. Hipparcos laid the foundation for the Gaia mission and was the first space mission dedicated to measure the positions of stars. While Hipparcos gave access to data on 117,995 stars, Gaia is to deliver astrometry for more than 1 billion objects in April 2018.
20/06/2017 Vacancy for a postdoctoral position in stellar/Galactic astrophysics at Dr. Remeis-Sternwarte Bamberg (University of Erlangen-Nuremberg)
Applications are invited to work on the research project "Origin of massive high-velocity stars in the halo", which includes the enigmatic hyper-velocity stars (HVS). The goal is to understand the origin and nature of massive runaway and HVSs. Gaia astrometry will be the project's backbone and shall be utilised, e.g., to identify the origin of the stars, clarify their ejection mechanisms, and to constrain Galactic mass models. A complete sample of high-velocity stars shall be established to test population synthesis models.
Applicants should have a sound knowledge of stellar and Galactic astrophysics. Expertise in Gaia data handling and/or modeling of the Galactic structure would be highly beneficial. Familiarity with population synthesis modeling would be an asset.
The position is funded for three years and the appointment shall start on October 1st, 2017 or later. Applicants should hold a PhD in astrophysics or be close to finishing their thesis. To apply, please prepare a cover letter, a curriculum vitae (including statements on education and research experience) and provide the names of three contact persons who might be asked for letters of reference. Please send your application by July 31st, 2017 (late applications will be considered until the position is filled) as a single PDF file to Prof. Dr. Ulrich Heber or Dr. Andreas Irrgang.
09/06/2017 Future of the Orion constellation
A new video on the future of the Orion constellation was just released by ESA Science & Technology. It shows the movement of the stars in the sky for the coming 450,000 years, based on TGAS data. This a subset of Gaia DR1 consisting of those stars in the Hipparcos and Tycho-2 Catalogues for which a full 5-parameter astrometric solution is available.
In April another video was published showing the movement of the stars in the entire sky.
30/05/2017 Vacancy for a postdoctoral fellowship "Physical properties of evolved open clusters in the Gaia era" at Laboratoire d'Astrophysique de Bordeaux
The Laboratoire d'Astrophysique de Bordeaux invites applications for a postdoctoral position related to the scientific exploration of Gaia Data Release 2 to be published in April 2018. The aim of the project "Physical properties of evolved open clusters in the Gaia era" is to determine the physical properties of nearby old open clusters using the Gaia astrometry combined with photometric and spectroscopic data available from Gaia and from the ground. More information on this position and on the application process can be found here.
Deadline for this application is 15 September 2017. Start date for this position is January 2018.
23/05/2017 Three stellar positions released to support unique occultation events
Just now we released the astrometry for three stars to support the observations of unique occultation events. On 22 June and 23 July 2017 relatively brights stars will be occulted by the largest known centaur Chariklo. Then on 5 October 2017 an occultation by Neptune's largest satellite, Triton, can be observed. The preliminary Gaia DR2 data for the three stars and more information about these events can be found here.
22/05/2017 Vacancy for a postdoctoral position "Support activities for the Gaia space mission" at Osservatorio Astronomico di Arcetri
The INAF - Osservatorio Astronomico di Arcetri invites applications for a post-doc position entitled "Support activities for the Gaia space mission", dedicated to the preparation of the grid of spectrophotometric standard stars for the calibration of Gaia and to the science validation activities in crowded stellar fields and globular clusters for GDR2. The reference person is Elena Pancino.
Deadline for this application is 12 June 2017.
10/05/2017 Vacancy for a postdoctoral position on Gaia data processing and scientific exploitation
The High-Energy Astrophysics Group and the Extragalactic Astrophysics and Space Observations team which are part of the STAR institute and of the Department of Astrophysics, Geophysics and Oceanography of the University of Liège (Belgium) are offering a common postdoctoral position to participate in Data Processing and Analysis Consortium activities in the framework of Gaia. The position is funded by a PRODEX programme.
The team in Liège is mainly involved in the CU6 spectroscopic channel and in the CU4 Non-Single Star channel. They are working on radial velocity measurements, on the detection of binaries and of composite spectra, and on the search for the corresponding orbital solutions. Also they are involved in the detection, recognition and further treatment of quasars and quasar candidates. Several developments are still necessary to participate in subsequent releases and the future postdoc will actively participate in these activities, as well as in the internal validation of the data to be released.
More information on this vacancy can be found here.
The deadline for applications is 20 May 2017 with a preferred starting date of 1 June 2017.
28/04/2017 International Astronomical Union Symposium on Astrometry and Astrophysics in the Gaia Sky
Today is the last day of the IAU Symposium on Astrometry and Astrophysics in the Gaia Sky. A week-long symposium that showed the diversity of the science return from Gaia Data Release 1. From fundamental physics to Galactic archaeology and Solar system science, a very broad range of presentations was given discussing the usage of Gaia data in their research performed. By now a lot of the presentations can be found online. Thank you for joining us at this very nice conference in honour of François Mignard.
20/04/2017 Gaia celebrates its 1000th day in routine phase
Today Gaia celebrates its 1000th day in routine phase. After the launch on 19 December 2013 and the six-month long in-orbit commissioning period, the routine scientific operations phase started on 25 July 2014.
Since then, Gaia gathered more than 35 TB of data and observed close to 70 billion transits. Thanks to all Gaia DPAC and ESA Gaia people for their enthusiasm and dedication to Gaia! Find more mission numbers here.
12/04/2017 Story on the motion of two million stars
Ever wondered what the universe would look like in 5 million years? The proper motions of the TGAS stars were propagated into the future, leading to a mesmerising video on the motion of two million stars.
04/04/2017 Videos of Gaia Data Release 1 workshop online now
For all Gaia enthousiasts that missed our Gaia Data Release 1 workshop and would like to see the presentations on video, these were finally processed as well and are now available here.
10/03/2017 Vacancy: Software Developer at Institute of Astronomy Cambridge
The Institute of Astronomy (Cambridge) invites applications for the position of Software Developer. The post-holder will work as part of the local DPCI (Cambridge Data Processing Centre) team of scientists / developers on data processing software for the ground segment of the mission, implementing data processing infrastructure components and algorithms for the calibration and removal of instrumental signatures from the scientific data generated by the satellite.
Further details and requirements are specified in the job description. The deadline for applications is 31 March 2017.
06/03/2017 Vacancy for a DPAC Operations Scientist
There is an opening for a DPAC Operations Scientist at ESAC, Spain. The role of the DPAC operations scientist will be to lead the effort of assessing the scientific characteristics, quality and coherence of the data products at all processing steps, with the aim to ensure scientific quality control across the DPAC CU boundaries.
In this position a lot of interaction with several groups within DPAC and with the Project and Archive Scientists is expected. More information can be found here.
22/02/2017 ESA images, videos and data available through Open Access
On 20 February 2017 ESA adopted an Open Access policy for content such as still images, videos and selected sets of data. A news article by ESA describes the Open Access policy as adopted by ESA. More information on sets of information currently available can be found here.
20/02/2017 Vacancy for post-doc/engineer position at Paris Observatory
The CU6 DPAC team at Paris Observatory is looking for a post-doc/engineer. The selected candidate will work in Meudon on the software development (conception, optimisation) of the spectroscopic data analysis modules, and on the analysis of the results. Further information and details on how to apply can be found here.
03/02/2017 Gaia DR2 Schedule
The schedule leading up to Gaia DR2 (Data Release 2) has recently been revisited by the DPAC project office, together with ESA. Some necessary changes in the data processing, together with an improved data processing flow, have led to a revised schedule which is believed to be firm as it is based on true performance testing and availability analysis of hardware and people. The new release date will be April 2018. Further details are available here.
25/01/2017 Vacancy: Post-doctoral fellowship at IMCCE/Paris Observatory
A postdoc position "Gaia astrometry and physical properties of asteroids" is available at the IMCCE/Paris Observatory related to the scientific exploitation and validation of Gaia data on asteroids. This fellowship is intended for a period of 18 months, with a possible extension depending on funding and performance. The application deadline is 1 March 2017 with a start date before 1 June 2017. The position will remain open until fulfilled. More information can be found here.
24/01/2017 Gaia's contribution to asteroid science
Just now ESA Science&Technology published an article on the contribution Gaia has on asteroid science. Tests of the software to detect asteroids in the Gaia data were successful. A Gaia Follow-Up Network for Solar System Objects is in place in case a suspected asteroid is spotted. More information on the Solar System Alerts can be found here.