18/12/2020 Grand Prize 2020 for Gaia
At its last session on 25 September, the Air and Space Academy (AAE) has awarded its Grand Prize 2020 to Anthony Brown, astronomer at the Leiden Observatory, and Vincent Poinsignon, Gaia satellite project manager at Airbus Defence & Space, for their decisive contribution to the success of the scientific space mission of the Gaia satellite.
18/12/2020 Vacancies for postdoctoral positions at Leiden Observatory
Applications are invited for a postdoctoral position at Leiden Observatory to work on the survey selection function for the Gaia mission. The research will be done as part of the EU-funded GaiaUnlimited project. More information can be found here, or contact Anthony Brown directly.
03/12/2020 Gaia Early Data Release 3 online now!
Today at 12:00 CET, the Gaia Collaboration released its Gaia Early Data Release 3 catalogue. If you are interested to follow up on some of the events, which are still ongoing, check out our events page. More information on the release can be found from the Gaia Early Data Release 3 overview page. Some stories highlighting the release have been published here.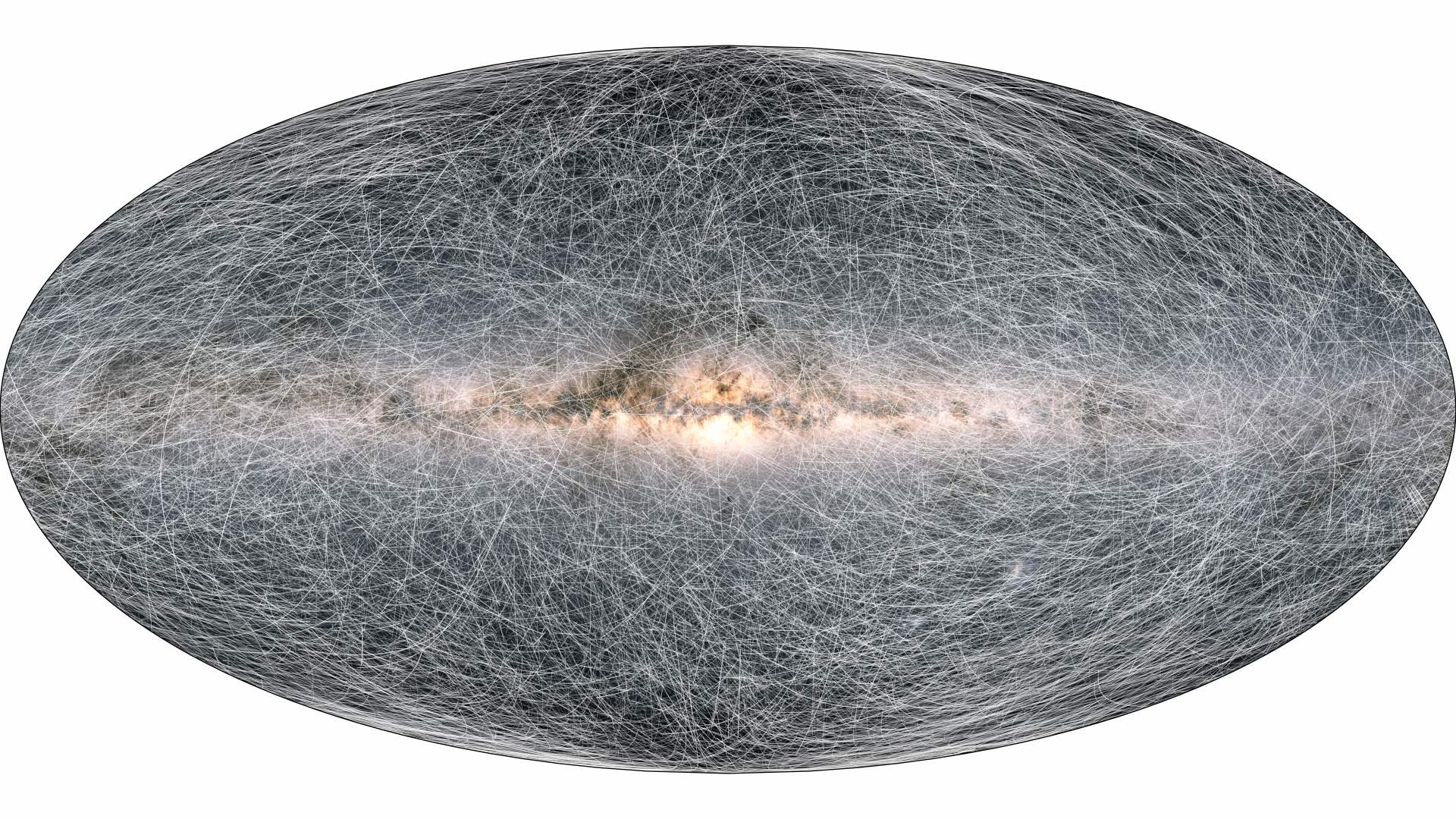 01/12/2020 Build your own mini-Gaia
Need something to do while waiting for the Gaia Archive to come back online? Why not build a mini-Gaia in the meantime. Building instructions are provided thanks to Willliam Taylor. You can find an example of the mini-Gaia model below.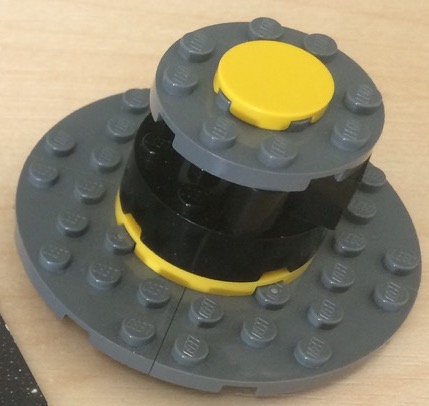 ​​​​ ​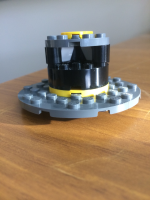 ​​​​​​​
01/12/2020 Gaia Archive is down for Gaia EDR3 preparations
Today at 12:00 CET the Gaia Archive went into countdown mode to allow the Gaia Archive team to perform the last preparations to make the Gaia EDR3 catalogue available to you on 3 December 2020 at 12:00 CET.
30/11/2020 Precise maps of millions of bright quasars show our place in the cosmos as never before
On 24 November a Science Magazine article was published on the Gaia reference frame and its impact on navigation in space.
27/11/2020 Gaia Newsletter Issue 14
Find the latest version of the Gaia Newsletter here.
​​​​​​
26/11/2020 Announcement of Gaia EDR3 events
Gaia DPAC and ESA Gaia teams are happy to announce the release of Gaia EDR3 on 3 December 2020. Gaia DPAC organises virtual events in many languages and with different formats, ranging from press briefings, scientific presentations to public outreach talks. Have a look at this webpage for the complete overview.
18/11/2020 Gaia EDR3 source code
Some source code accompanies the Gaia EDR3 papers. The description of the code and info on where to find the code is available from this page.
16/11/2020 ESA internship opportunities
A new round of ESA internship opportunities are now available at the ESA Careers website. Check out the internships in the Directorate of Science, including internships making use of Gaia Mission data!
10/11/2020 Gaia Archive upgrade to version 2.10
On Thursday 12 November from 10:00 to 12:00 CET, the Gaia Archive will be down to allow for an upgrade of the systems. The Gaia Archive is getting ready for the new release of Gaia data. On 1 December 2020, the Gaia Archive will go down at 12:00 to allow for the final preparations of the Gaia Early Data Release 3 which will come online on 3 December 2020 at 12:00 CET.
05/11/2020 Gaia DPAC services down on 7 November
To allow for some maintenance, most Gaia DPAC services like Jira, Wiki, Nexus, GPDB, GOST, helpdesk, SVN will be down on Saturday 7 November 2020 from 09:00 to 19:00 CET. Gaia Cosmos and the Gaia Content Server remain accessible.
04/11/2020 Gaia Archive countdown towards Gaia EDR3
Please be aware that the Gaia Archive will be down from 1 December 2020 12:00 CET counting down towards the release of Gaia EDR3 on 3 December 2020 at 12:00 CET. This short downtime of two days allows our Gaia Archive team to make the necessary preparations to bring the Gaia EDR3 catalogue online on 3 December.
04/11/2020 Gaia Archive down for maintenance
In preparation of our Gaia EDR3 release, maintenance is needed to our Gaia Archive. Today the Gaia Archive was down from 09:00 to 13:00 CET. The downtime today allows for reducing the downtime of the Gaia Archive later closer to the release day (3 December 2020). The Gaia Archive team is still working behind the scenes. Users might experience some slowness due to the caches filling up again, especially when using the cross-match tables.
03/11/2020 Gaia EDR3 update
The titles of both the summary paper, processing papers and the performance verification papers can be found now on a dedicated page for the Gaia EDR3 papers.
02/11/2020 International Astronomical Union - Focus meeting 7
At the IAU General Assembly XXXI in Busan, Rep. of Korea, a focus meeting will be held on "Astrometry for 21st century astronomy". The IAU General Assembly will take place from 16 to 27 August 2021. The precise dates for the Focus Meeting 7 will be announced later.
02/11/2020 Trainee opportunities at ESAC
Soon trainee opportunities will be announced through the ESA careers website. Opportunities at ESAC, including one for the Gaia mission, can be checked out here.
30/10/2020 Gaia EDR3 events
Events are planned to present Gaia Early Data Release 3 to the public. Due to the pandemic, these events will be planned mostly (if not all) as online events on 3 December 2020 from 10:00 AM CET. More information on the Gaia EDR3 events will follow soon, and will be made available through the Gaia EDR3 overview page.
29/10/2020 Gaia EDR3 passbands
To allow the scientific community to prepare, the Gaia EDR3 passbands are shared in advance of the Gaia Early Data Release 3, which is expected to go public on 3 December 2020 at 12:00 CET.
23/10/2020 Falling Walls nomination for Anthony Brown
We are happy to announce that Anthony Brown, head of the Gaia Data Processing and Analysis Consortium (DPAC), was selected as a finalist in the category of physical sciences for the Falling Walls Conference, which will be held remotely this year between 1 and 10 November. Anthony Brown was nominated by the University of Heidelberg for breaking the walls in astronomy. Gaia Data Release 2 has led to a revolution on astronomy, with the Gaia data being of use to practically all fields of astronomy.
Anthony stresses that the processing and preparation of Gaia data releases is a joint effort by Gaia DPAC, and that this recognition is for the entire Gaia DPAC team.
​​​​​​​
21/10/2020 Planned maintenance to Cosmos
The Gaia Cosmos website, Gaia FTPs, Gaia Archive help pages and some of the Gaia DPAC services like the content server will be down on Saturday 24 October 2020 between 08:00 and 18:00 CEST.
20/10/2020 Lennart Lindegren and Jackie Faherty awarded prizes for dynamical astronomy
We are pleased to announce that Lennart Lindegren and Jackie Faherty were awarded prizes by the American Astronomical Society (AAS) Division on Dynamical Astronomy (DDA). Lennart was awarded the 2020 Dirk Brouwer Career Award, and Jackie Faherty won the 2020 Vera Rubin Early Career Prize. Find here more information on the prizes and this news.
08/10/2020 Vacancy for a postdoc at ICCUB - Barcelona
The Institute of Cosmos Sciences of the University of Barcelona is seeking a Postdoctoral fellow in Structure and Evolution of the Milky Way galaxy through Gaiaa for its Unit of Excellence Maria de Maeztu postdoctoral positions. Find more information on this position in the attached document.
08/10/2020 Research Fellowship opportunities at ESA
ESA has announced an opportunity for post-doctoral research fellowships linked to its science missions, including Gaia. Deadline to submit applications is 29 October 2020. More information can be found here.
15/09/2020 Gaia EDR3 draft data model available now
To allow the scientific community to prepare for the release of Gaia EDR3, a draft version of the Gaia Early Data Release 3 data model has been made available. Gaia EDR3 is planned to be released on 3 December 2020.
14/09/2020 Happy Gaia DR1 day
Four years ago, Gaia released its first catalogue of stars: Gaia Data Release 1.
10/09/2020 Gaia Archive maintenance planned
On Monday 14 September, maintenance to the Gaia Archive is planned which will cause a short downtime between 10:00 and 12:00 CEST.
​​​​​​​07/09/2020 Gaia EDR3 release date fixed
​​​​​​​We have fixed the Gaia EDR3 release date to 3 December 2020 (at 12:00 CET). All data has been produced and the validation is currently underway. The contents of Gaia EDR3 can be found from this page and an overview page will provide further details of the release as it becomes available. Although the pandemic continues to complicate and slow down the progress toward Gaia DR3, the release is expected to take place during the first half of 2022. An overview of the contents of Gaia DR3 can be found from the data release scenario page.
19/08/2020 Gaia Archive upgrade to version 2.9.1
Tomorrow morning between 09:00 and 11:00 CEST the Gaia Archive will be shortly down to allow for an upgrade to version 2.9.1. The upgrade will bring some usability improvements. More information on the exact changes in the new version can be found from the release notes.
19/08/2020 Podcast with Anthony Brown
Find here a podcast interview with our Gaia Data Processing and Analysis Consortium chair: Anthony Brown.
​​​​​​​14/07/2020 Preliminary info on Gaia EDR3 contents
On this page a description is given of the expected contents of Gaia's Early Data Release 3. The Gaia EDR3 catalogue will be based on 34 months of data collection, and is expected to contain about 1.8 billion stars. Gaia EDR3 is on track for a release late 2020. A more exact date will be announced later.
12/06/2020 Update to the Gaia DR2 known issues
As described in Section 5.1 of the paper Gaia Data Release 2: The astrometric solution, there are strong indications that the Gaia DR2 positions and proper motions for stars with G ≲12 mag have a significant orientation and rotation bias, respectively. It is advisable to correct for these biases for high-accuracy applications and/or applications that cover long time intervals. A new item on the orientation and rotation of the Gaia DR2 reference frame for bright objects has been added to the Gaia DR2 known issues to help you guide to the corrections available. Also the Gaia DR2 primer has been updated to reflect this information.
07/05/2020 Gaia Archive upgrade to version 2.8
On Monday 11 May, a new version of the Gaia Archive will be deployed. The Gaia Archive will hence be unavailable in the morning and should be ready to be accessed again by 13:00 CEST. Apart from some fixes, there is an update to the ADQL supported functions and an improvement with respect to the interoperability with VO tools. More details will be available in the release notes on Monday 11 May from 13:00 CEST.
07/05/2020 Gaps in Gaia DR2 data
A description and overview of gaps in the data stream that underlies the Gaia DR2 data products can be found here.
25/04/2020 Gaia DR2 - second anniversary
Today the Gaia Mission celebrates the second anniversary of Gaia Data Release 2. The Gaia catalogues have been embraced by many scientists across the world. Today, we are proud of the many papers that appeared using our latest release, Gaia DR2. In the past 2 years, almost 3000 refereed papers based on Gaia Data Release 2 have been published. That amounts on average to 4 papers per day. Thank you for using our data with so much enthusiasm! In the meantime, ESA Gaia teams and Gaia DPAC are continuously working towards next data releases. Keep posted with our Gaia newsletter of upcoming releases.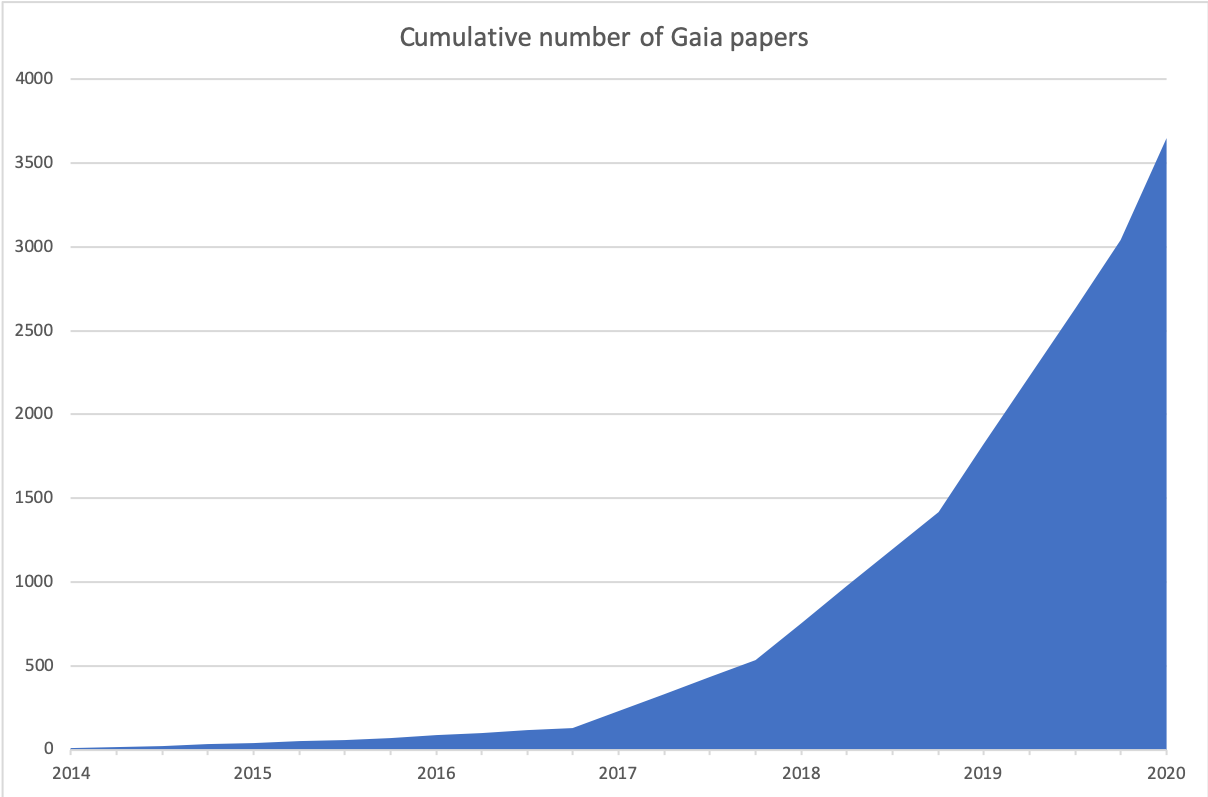 Gaia's first release came out on 14 September 2016. On 25 April 2018, the Gaia Collaboration published its second date release.
20/03/2020 Gaia Newsletter Issue #10
Please find the latest issue of the Gaia Newsletter here.
18/03/2020 Delay of Gaia (E)DR3
The COVID-19 virus is spreading across the globe and its impact is also felt in the Gaia collaboration. The data processing effort is distributed over many European countries which adopt different approaches to fight the pandemic. In some countries, restrictions are very severe and the situation is rapidly changing towards more restrictions everywhere.
The schedule towards Gaia (E)DR3 is already affected and more delays can be anticipated. Those scientists and computer engineers in the Gaia Data Processing and Analysis Consortium (DPAC) who can work are now mostly working from home, but their priority is their own health and that of their families. Furthermore, resolving problems with computer hardware takes longer than usual due to the absence of personnel on operational sites.
Therefore, schedule delays of both Gaia Early DR3 and Gaia DR3 are inevitable, but can only be quantified after more clarity of the overall situation has been achieved. As soon as possible, a new schedule for the releases will be announced. While data processing has slowed down, the good news is that Gaia continues to collect valuable science data. With this note we wish everyone good health in the coming times.
06/03/2020 Gaia's latest science stories
Milky Way's warp caused by Galactic collision, Gaia suggests: Astronomers have pondered for years why our galaxy, the Milky Way, is warped. Data from ESA's star-mapping satellite Gaia suggest the distortion might be caused by an ongoing collision with another, smaller, galaxy, which sends ripples through the galactic disc like a rock thrown into water. Further reading here.
Global Gaia campaign reveals secrets of stellar pair: A 500-day global observation campaign spearheaded more than three years ago by ESA's galaxy-mapping powerhouse Gaia has provided unprecedented insights into the binary system of stars that caused an unusual brightening of an even more distant star. Further reading here.
12/02/2020 Gaia Archive shortly unaccessible through archives.esac.esa.int/gaia
On February 17th between 14:00 and 15:00 CET, there will be a downtime of the archives.esac.esa.int machine. This means that anyone trying to access the Gaia Archives through the link archives.esac.esa.int/gaia will not be able to reach the Gaia Archive. During this period, please access the Gaia Archive using https://gea.esac.esa.int/archive/.
11/02/2020 Network outage at ESAC
Due to a network downtime at ESAC, several Gaia DPAC services are affected: Gaia Jira, Gaia DPAC wiki and Gaia Helpdesk. Some other services may experience problems as well. We hope to get things up as soon as possible.
16/01/2020 Gaia Archive upgrades to https
Please be reminded that the Gaia Archive will only be served using https starting on 1 February 2020, this in order to improve security. Requests to the old http access point will automatically be redirected. However, existing scripts may fail to be rerouted. For example, you may experience problems with old astroquery versions or hard coded URLs. Please update astroquery, or replace http by https in your code when needed. Some examples can be found in the GUI Help => Command line access. Please contact the Gaia Helpdesk if you still experience problems.
15/01/2020 Updated version of the Gaia DR2 primer
The Gaia DR2 primer has been updated to version 1.1. Apart from fixing some typos, some extra explanation is given on the TCB and links were added to the guide-to-scientists videos. Today's added known issue can also be found in the primer now.
15/01/2020 Cross-match: Gaia DR1 neighbours close to high proper motion Gaia DR2 objects
Today we updated the Gaia DR2 known issues page with information on missing objects in the neighbourhood cross-match table with Gaia DR1 sources. This table contains the G-band magnitude difference, the angular distance, and an empirical metric combining both quantities (called "rank"), for all possible matches between Gaia DR1 and Gaia DR2 sources.
Please read through the new known issue carefully to see if it affects how you use Gaia data.