Image of the Week
Delivery of Gaia's two large mirrors: M1 and M'1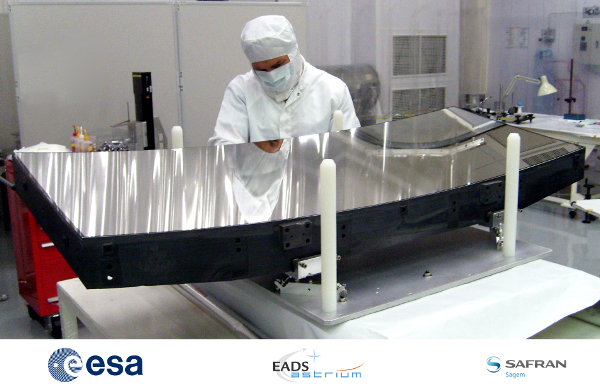 Gaia contains two identical telescopes, pointing in two directions separated by a 106.5° basic angle and merged into a common path at the exit pupil. The optical path of both telescopes is composed of six reflectors (M1-M6), the last two of which are common (M5-M6).
M1 is the primary mirror of each telescope. It is a rectangular off-axis mirror (concave surface) of dimension 1.490m x 0.540m. After final acceptance, M1 has been delivered to the EADS Astrium facilities in Toulouse by Safran-Sagem on the 3rd September 2010. There it will be integrated onto the torus.
You can find more information on the Science and Technology website.
Picture: courtesy of ESA / EADS Astrium / Safran - Sagem
[Published: 14/09/2010]