Image of the Week
Gaia Stamp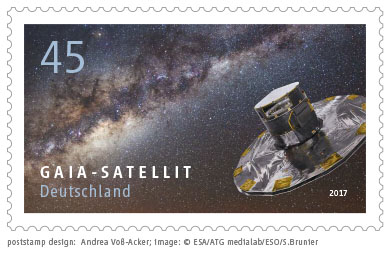 Figure 1: German Gaia-Satellit stamp (Poststamp design: Andrea Voß-Acker, Image: ESA / ATG medialab / ESO / S. Brunier)
Sending postcards in Germany will be even more fun as from December. Yesterday the German Ministry of Finance announced that a Gaia stamp will be issued on 7 December 2017. A preview of this stamp is given above. The stamp will in fact be the first German stamp with a metallic coating. Along with the Gaia stamp another astrophysics stamp will come out on the topic of gravitational waves, of which a preview is given below.
The Gaia stamp is based on the same image that was used for the Gaia mission poster using the Gaia satellite image in combination with a background image of the Milky Way as obtained from ESO / S. Brunier. The image used for the gravitational wave stamp was created by researchers at the Max Planck Institute for Gravitational Physics in Potsdam.
More detailed information on these stamps can be found on the website of the German Ministry of Finance.
Figure 2: German "Gravitationswellen" stamp (Poststamp design: Andrea Voß-Acker, Credits: S. Ossokine, A. Buonanno (AEI), SXS, W. Benger (AHM))
Credits: ESA/Gaia/DPAC, Stefan Jordan
Credits Gaia stamp: Design - Andrea Voß-Acker, Gaia image with background - ESA / ATG medialab / ESO / S. Brunier
Credits Gravitational wave stamp: Design - Andrea Voß-Acker, Gravitational wave image - S. Ossokine, A. Buonanno (AEI), SXS, W. Benger (AHM)
[Published: 27/10/2017]