Image of the Week
Gaia on the hunt for dual quasars and gravitational lenses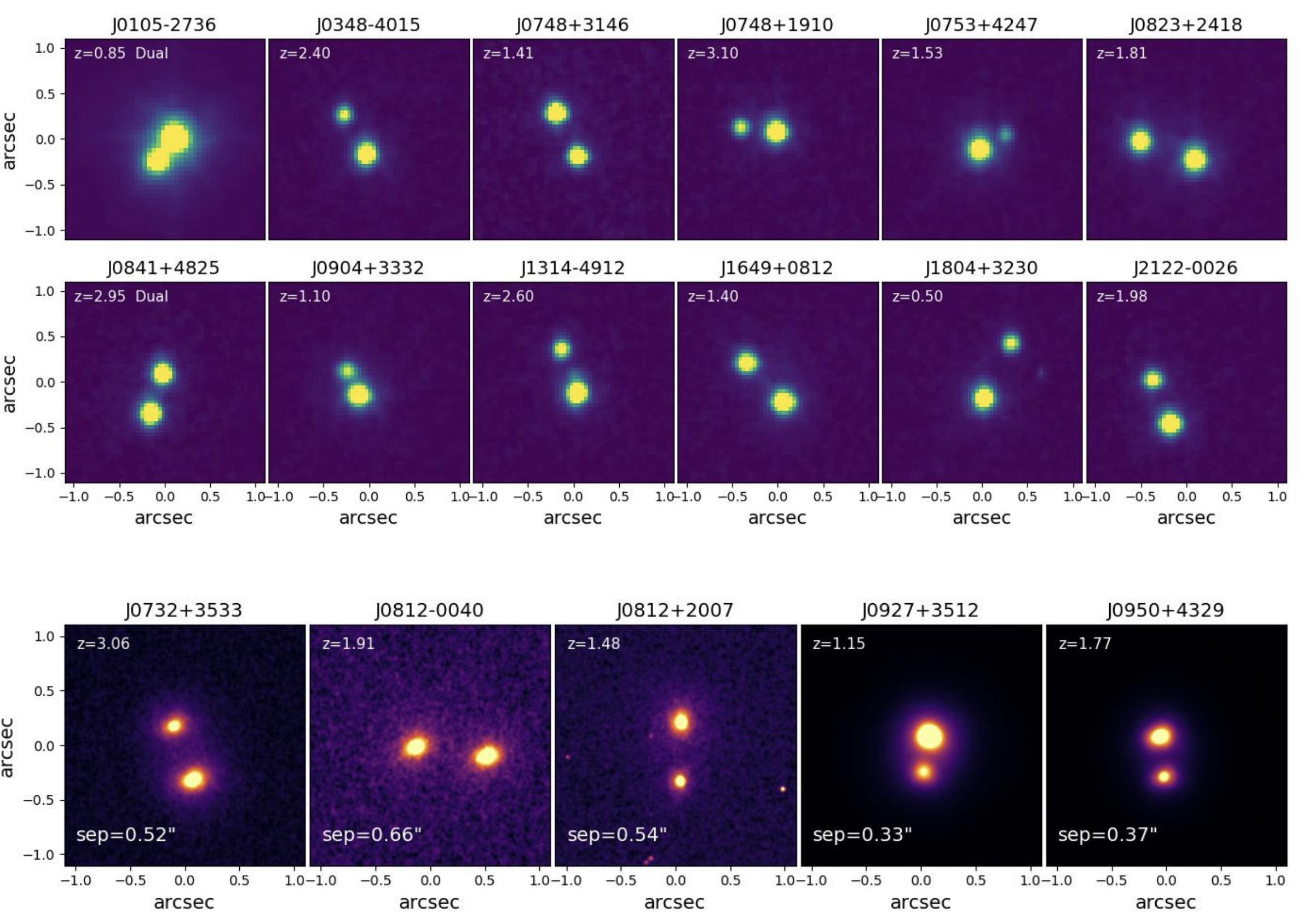 Archival Hubble Space Telescope (above) and dedicated Large Binocular Telescope (below) images of a few Gaia-selected multiple AGN candidates. All of them are double or multiple, indicating a success rate close to 100% in finding double or multiple sources. About one third of the candidates are expected to be AGNs projected close to foreground stars, and the rest to be either gravitational lenses or genuine dual QSO. Credit images: NASA/STsci and LBT
Thanks to its unprecedented combination of excellent resolution and sky coverage, Gaia is now used to study not only stars, but also extremely distant objects such as quasars (QSO). Cosmological models in fact predict the presence of a large population of dual supermassive black holes (SMBH) in a common host galaxy, spiraling closer and closer and eventually merging, with an expected emission of very powerful gravitational waves. In most cases, these SMBHs could be detected as dual active galactic nuclei (AGNs). However, such dual AGNs are not easy to observe from the ground, because they are expected to be rare systems (about 0.1% of the AGNs) just a few kiloparsecs apart, appearing closer than 1" on the sky, depending on their distance from us. For this reason, only four of these systems have been identified and confirmed so far, making any quantitative testing of cosmological predictions impossible, especially at high redshift.
Gaia has been already employed to hunt for dual QSO using a technique known as "varstrometry", which exploits the extreme accuracy of the astrometry from Gaia, the photometric variability of some of the AGNs, and the Gaia parameter indicating an excess noise in the astrometric solution for each given source, called "RUWE". However, this technique only works for photometrically variable AGNs. With Gaia (E)DR3, a new parameter has been added, labeled "IPD_frac_multi_peak", which indicates the fraction of observations of a given source that are double or multiple. The point-spread-function (PSF) of Gaia measures less than 0.2" and thus allows in principle to distinguish objects down to a separation of 0.15" and up to 0.7", when dual sources start appearing mostly as two well separated objects in the Gaia source catalogue. Selecting known QSO with at least 10% of transits with multiple peaks, hundreds of candidate binary QSO were obtained for the first time, as described in a recently published Nature Astronomy article by Mannucci, F., et al. Using Hubble Space Telescope archival images and newly obtained Adaptive Optics or AO-assisted images at LBT, it was estimated that the technique has a success rate very close to 100% in finding multiple sources (The LBT is an international collaboration among institutions in the United States, Italy and Germany).
However, about one third of the candidates are predicted to be made by a chance superposition of a QSO and a star: to prune these out, each candidate will need to be observed spectroscopically and this process will require some time before a sample of a few tens of confirmed candidates will be obtained. Interestingly, the technique proved to be extremely useful to find another type of very interesting source: gravitationally lensed QSO, also known as Einstein Crosses. Several of these were in fact already identified with Gaia, and several new ones are indeed present among the dual QSO candidates, as can be seen in the image.
With the recent release of a new catalogue almost 7 million QSO candidates observed by Gaia, of which many have an estimated redshift, it will be possible to enlarge and refine the selection of candidate dual QSO, paving the way for a large sample of confirmed dual QSO and gravitational lenses, and finally allowing for a fundamental and quantitative test of the cosmological models predictions.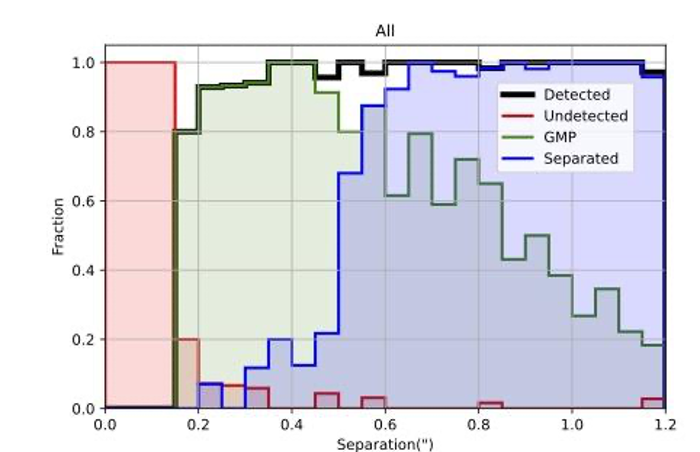 Efficiency of the IPD_frac_multi_peak selection as a function of separation of the two members. Above separations of ~0.15", virtually all the multiple systems are selected. Below ~0.7" most of the objects appear as single entries in the Gaia catalog (green histogram), while above this value Gaia is able to assign a separate entry to each member of the group (blue histogram). Credits: Filippo Mannucci
Credits: ESA/Gaia/DPAC/CU3/CU4, Filippo Mannucci and Elena Pancino from the Arcetri Astrophysical Observatory (INAF)
[Published: 26/09/2022]