Image of the Week
3rd DPAC CONSORTIUM MEETING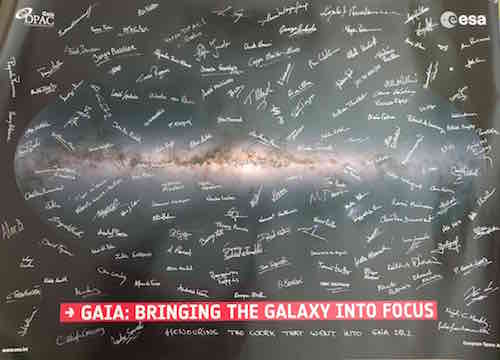 Gaia DPAC members who participated in the 3rd DPAC Consortium Meeting in Abano Terme, Italy all signed the Gaia Sky in Colour. The image serves as a memory of the work done by Gaia DPAC to make Gaia Data Release 2 possible. Download a good-resolution image here (DPAC members only). (Image credit: ESA/Gaia/DPAC)
Last week, from 1 to 5 October 2018, the third Gaia Data Processing and Analysis Consortium (DPAC) meeting was held in Abano Terme, Italy. This meeting was used to discuss the ongoing preparations for Gaia Data Release 3 and to reflect on Gaia Data Release 2.
This was only the third time DPAC members from all coordination units were brought together. This type of general meeting helps to understand the various interfaces the coordination units (CUs) and data processing centres (DPCs) have and brings together DPAC members who normally would not meet each other. DPAC members are working at various institutes across Europe and are often involved in one or two of the total of nine coordination units. 175 members attended the meeting of the total of about 415 DPAC members there are at the moment.

Group picture of the 3rd Gaia DPAC Consortium meeting, held from 1-5 October 2018 in Abano Terme, Italy. Image credit: ESA/Gaia/DPAC, D. Bossini, A. Vallenari, R. Sordo
There were many fruitful discussions and inspiring ideas on how to tackle the issues one encounters when dealing with big data and the processing of big data using a distributed group of people. Looking back at data release 2 and the experience gained in this data release, the lessons learnt from the past data releases were used to create schedules for the development and processing for data release 3.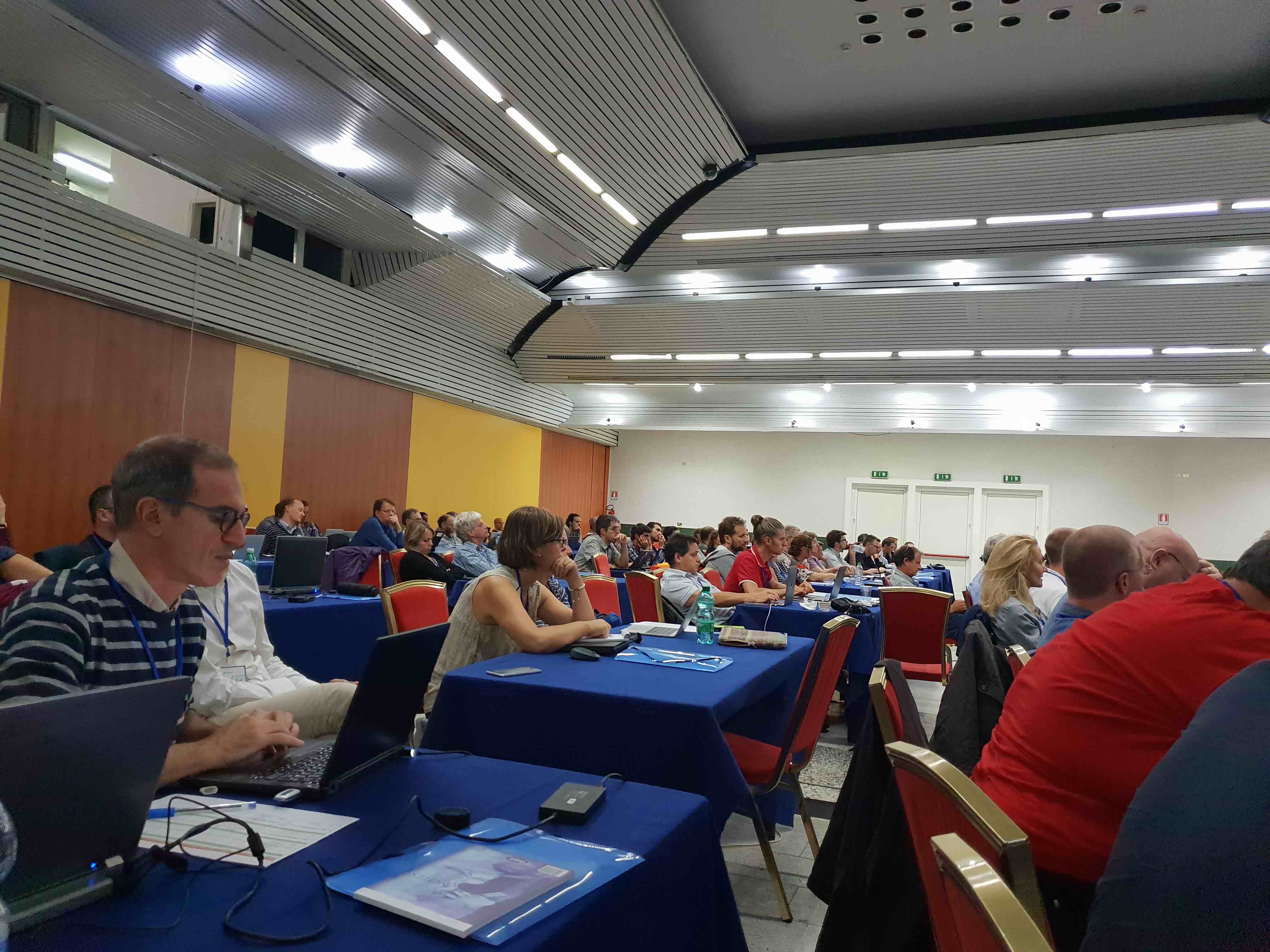 DPAC members at the plenary talks of the 3rd Gaia DPAC Consortium meeting, held from 1-5 October 2018 in Abano Terme, Italy. Image credit: ESA/Gaia/DPAC
Next to a number of presentations given by the DPAC chair Anthony Brown, DPAC deputy chair Antonella Vallenari and Project Coordinator Gonzalo Gracia, plenty of splinters were organised to discuss and brainstorm on a variety of topics such as scientific interfaces, CU interfaces, archive architecture, user requirements (call for user scenarios is still open, give your input here), beta-testing, the validation of the data, the documentation, tools and outreach preparations for Gaia data release 3.
There was also time for some social events to help build team spirit and get to know one another. This year a quiz was organised on the history of astronomy by W. van Reeven. You can do this quiz yourself if you like, it is available for download here.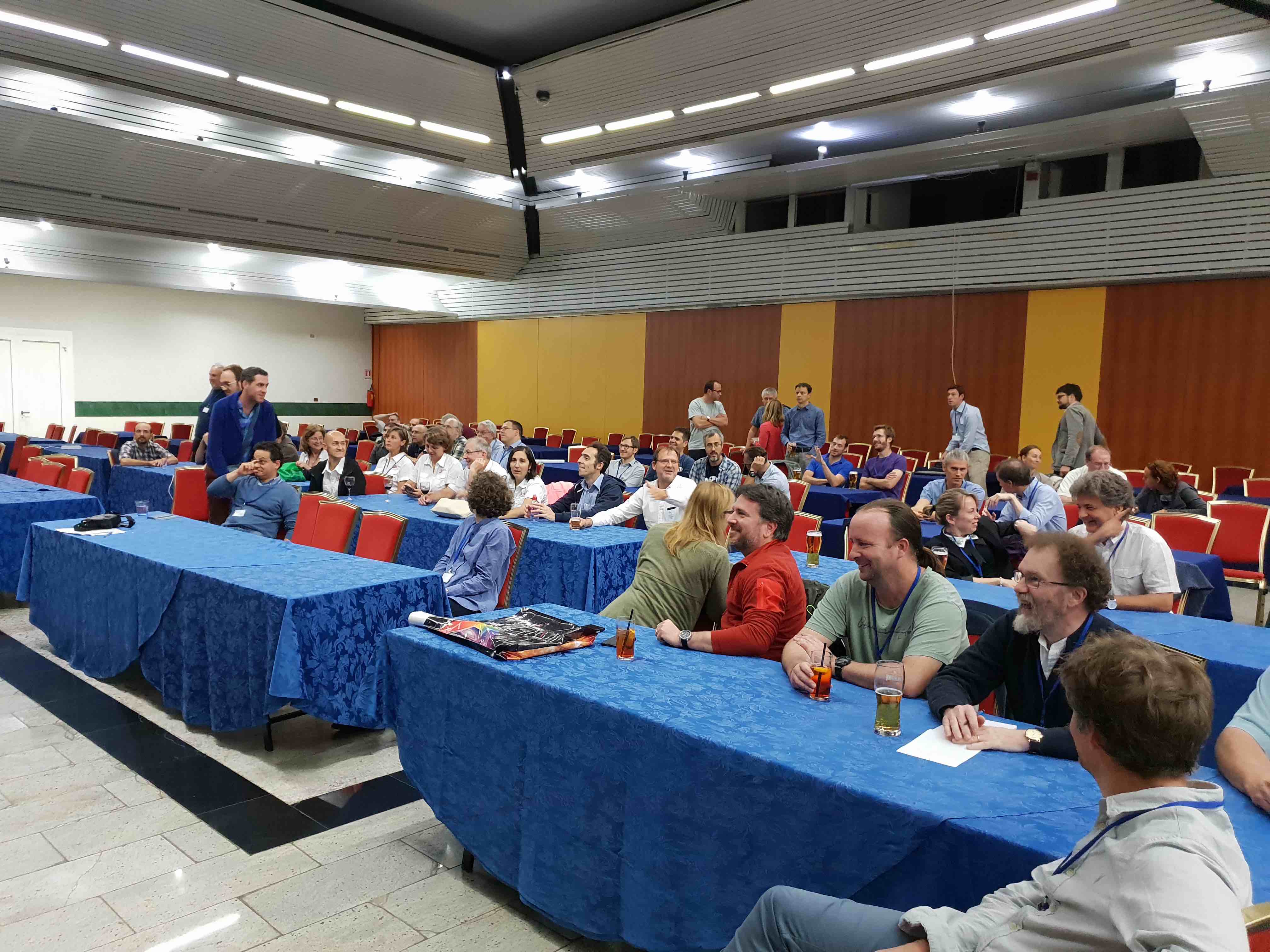 Gaia DPAC members at the social evening, ready to take the quiz on "history of astronomy". Image credit: ESA/Gaia/DPAC
The second Gaia DPAC consortium meeting dates back to January 2017 and was held in Sitges, Spain. Below a group picture of this past meeting can be found. Most of these people were also involved in the preparations of Gaia Data Release 2.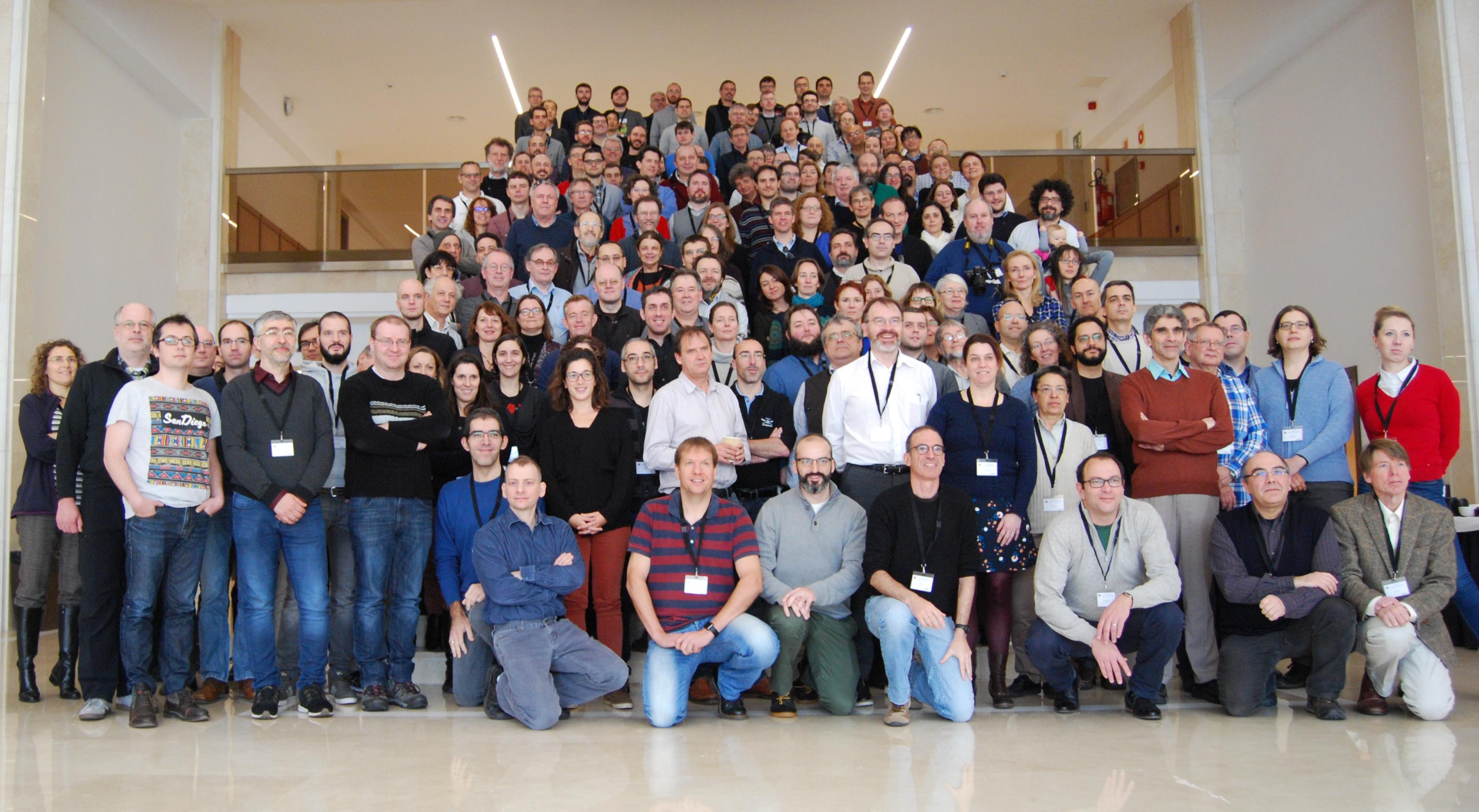 Participants of the 2nd DPAC Consortium Meeting, which was held in January 2017 in Sitges, Spain (Image credit: ESA/Gaia/DPAC/E.Masana)
Credits: ESA/Gaia/DPAC
[Published: 09/10/2018]