Image of the Week
Plausible home stars for interstellar object 'Oumuamua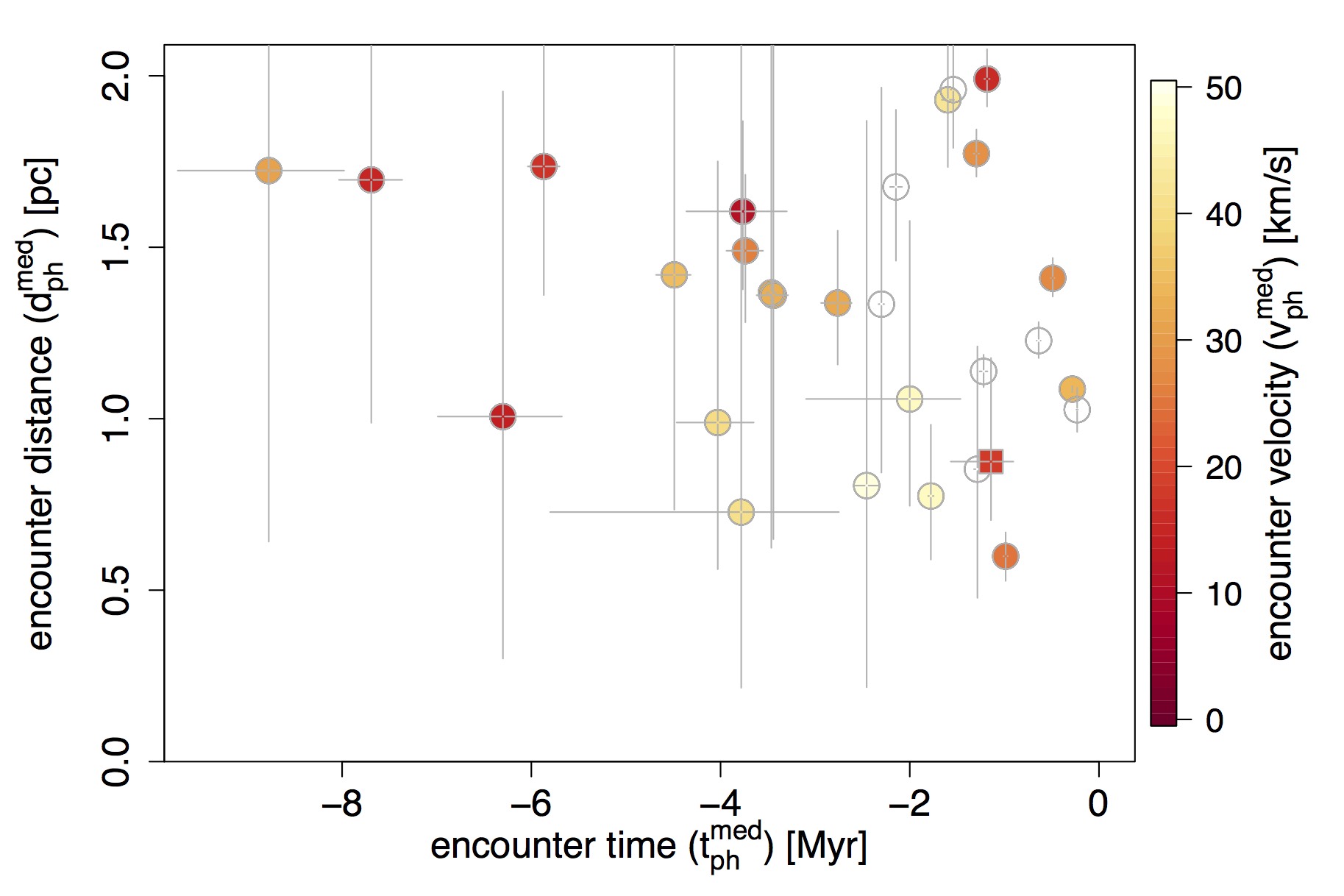 Encounter parameters for the stars from Gaia DR2 that encounter 'Oumuamua within 2 parsec. The point shows the median of the estimated encounter time (horizontal axis) and median of the estimated encounter distance (vertical axis). The colour shows the velocity of 'Oumuamua relative to the star at encounter. The error bars show the extent of the 5th and 95th percentiles (the error bars are smaller than the points in some cases). The smallest encounter velocity plotted is 10.7 km/s (this is HD 292249). White circles have median encounter velocities above 50 km/s. (Image credit: Coryn A.L. Bailer-Jones, Davide Farnocchia, Karen J. Meech, Ramon Brasser, Marco Micheli, Sukanya Chakrabarti, Marc W. Buie, Olivier R. Hainaut)
The first interstellar object to pass through our Solar System was detected by the Pan-STARRS survey on 19 October 2017 (Meech et al. 2017). Having already passed the Sun at a distance of 0.25au five weeks earlier, and moving out of the Solar System at nearly 90 km/s, there was a frenzy of observational activity to characterize it before it was too faint to observe (which was the case by January 2018). It turned out to be a small elongated reddish object, possibly cigar-shaped with a length of 800m and width of around 80m, and tumbling around none of its axes of symmetry.
Based on its inferred hyperbolic orbit (i.e. it is unbound to the Sun), various groups traced its motion back in time through the Galaxy to see if they could associate it with a particular star. The movements of these stars over time must of course also be accommodated in such an analysis, and this was done using astrometry - parallaxes and proper motions - for stars from the TGAS component of Gaia DR1. Combined with radial velocities from other surveys, this provided a list of up to 300 000 stars which could be examined. Unfortunately, none of these studies found any convincing close encounters.
Now, the publication of Gaia DR2 has allowed astronomers to look again into the question of 'Oumuamua's origin. This data release provides much more precise astrometry than DR1, and crucially includes radial velocities for over 7 million stars, thereby increasing the number of stars which can be examined by a factor of 20 over the TGAS-based studies. Furthermore, a team of astronomers led by Marco Micheli at the ESA SSA-NEO Coordination Centre has, in the mean time, used ground-based and HST observations to model 'Oumuamua's orbit more precisely (finding also evidence for a non-gravitational force, which is not uncommon among comets and asteroids).
The new origins study, led by Coryn Bailer-Jones at Max Planck Institute for Astronomy in Heidelberg, has identified four plausible home stars for 'Oumuamua. Assuming that 'Oumuamua was ejected from a stellar system, either through interactions with a giant planet or a second star in that system, then a plausible origin is revealed via a close and slow encounter in the past (which would then indicate the time and speed of ejection). Although none of the encounters are very slow (the slowest is of order 10 km/s), the residual uncertainties in the analysis mean that these are good candidates, and the best found so far. None of the stars has published planets or is known to be a binary, but further investigation will be required to confirm or refute this.

The animation above traces the orbit of one of the home candidates ("star") and 'Oumuamua ("iso") back in time to their mutual encounter. The coordinate system is Cartesian with the Galactic centre at (0,0,0) and is inertial with respect to that. Left is the view from the north Galactic pole (the z-axis is perpendicular to the Galactic plane); right is the view from l=90 (the direction of Galactic rotation). As explained in the article, the star and 'Oumuamua are represented not by their nominal measurements but by a set of "surrogates" (just 20 shown here) obtained by sampling the uncertainties in their position and velocity measurements. The uncertainties in 'Oumuamua are so small on this scale that they are barely visible. GIF credit: Coryn A.L. Bailer-Jones, Davide Farnocchia, Karen J. Meech, Ramon Brasser, Marco Micheli, Sukanya Chakrabarti, Marc W. Buie, Olivier R. Hainaut
There are of course a number of caveats to this study. All of the home candidate stars are low mass (of order a solar mass or less), relatively nearby, and encountered 'Oumuamua within the past 7 Myr. These are to some extent selection effects of the study, because to have a measurable radial velocity in Gaia DR2 the star must be relatively bright. Indeed, given that there are of order 1011 stars in the Galaxy, and we have no good indications of 'Oumuamua's age, then it is not unlikely that it was ejected from one of the many stars which could not be studied using Gaia Data Release 2. On the other hand, if 'Oumuamua turns out to have been ejected within the past few million years, then there is a reasonable chance this study has identified its home system. Further investigation will have to await the publication of Gaia Data Release 3, which should provide radial velocities for many more stars.
References:
Meech et al. 2017
Bailer-Jones et al. 2018 (the paper on plausible home stars for 'Oumuamua)

Read the story on ESA Science & Technology here.
Credits: ESA/Gaia/DPAC, Coryn A.L. Bailer-Jones, Davide Farnocchia, Karen J. Meech, Ramon Brasser, Marco Micheli, Sukanya Chakrabarti, Marc W. Buie, Olivier R. Hainaut
[Published: 25/09/2018]