Image of the Week
Delivery of the WFS flight models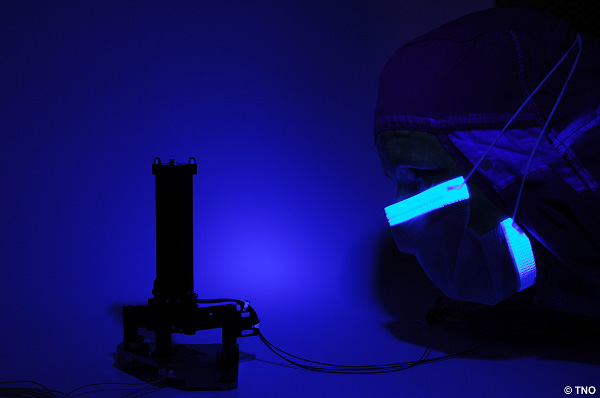 The picture shows the UV-Inspection of the flight model of the Gaia WFS at TNO.
Gaia contains two Wave Front Sensors (WFS) on its focal plane used for the alignment of the two Gaia telescopes. The Wave Front Sensors are mounted about 0.5 meter apart, sampling the wave front for different field points within in the field of view of the telescopes. Each WFS is equipped with a micro-lens array consisting of 10x4 lenses per telescope, allowing measuring and quantifying the aberration of each telescope. This information will be used when activating an alignment mechanism in the telescopes itself, to remove for instance a defocus. TNO has designed a robust and lightweight unit, which is optimised for launch and cryogenic operation (from ambient down to 140K). The WFS can measure differential wave front distortions in a wavelength range from 450 to 900 nm with an accuracy of 0.9 nm and determine the focal plane with an accuracy of 50 µm.
After a successful Manufacturing, Assembly, Integration and Test (MAIT) campaign and final inspection, the wave front sensor Flight Models have been delivered to Astrium and are waiting to be mounted on the satellite focal plane.
Contact info: ben.braam@tno.nl
More info on www.tno.nl/gaiawfs.
Credit:
picture: TNO / Fred Kamphues
text: Amir Vosteen
[Published: 5/1/2011]