Image of the Week
System Operations Verification Test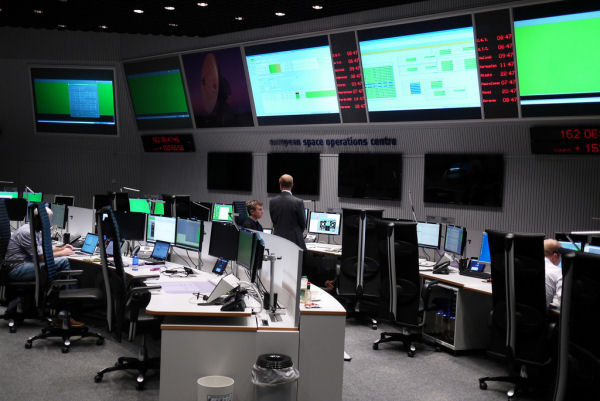 This photo of the Main Control Room at ESOC, Darmstadt, which will be used for the Gaia Launch and Early Orbit Phase (LEOP), was taken on the second day of the Gaia System Operations Verification Test (SOVT).
For the SOVT, ISDN lines were used to communicate with Gaia at the Astrium facility in Toulouse. Operations procedures such as switching on the PDHU were exercised and the SpaceCraft Operation System (SCOS) was used to send telecommands to the Gaia spacecraft and to receive the telemetry.
During the test the Gaia instruments were commanded to perform a series of Calibration procedures, and the resulting data were transmitted to the Science Operations Centre (SOC) in Madrid. It was the first time that the operations team commanded the science instruments on the assembled satellite. All instruments behaved well, although analysis of the data is still on-going.
In the picture you see Spacecraft Operations Manager David Milligan sitting at his console briefing his Head of Division Andreas Rudolph. Behind Calibration Engineer Ralf Kohley is waiting for the data from the first calibration procedure of the day. To the right Power & Thermal Space Operations Engineer Peter Collins is checking telemetry on his console as the Gaia spacecraft is being initialised.
Image courtesy of Wil O'Mullane
[Published: 21/06/2013 ]