Image of the Week
Validation of GAia DR1: How Faint are the faintest Gaia Stars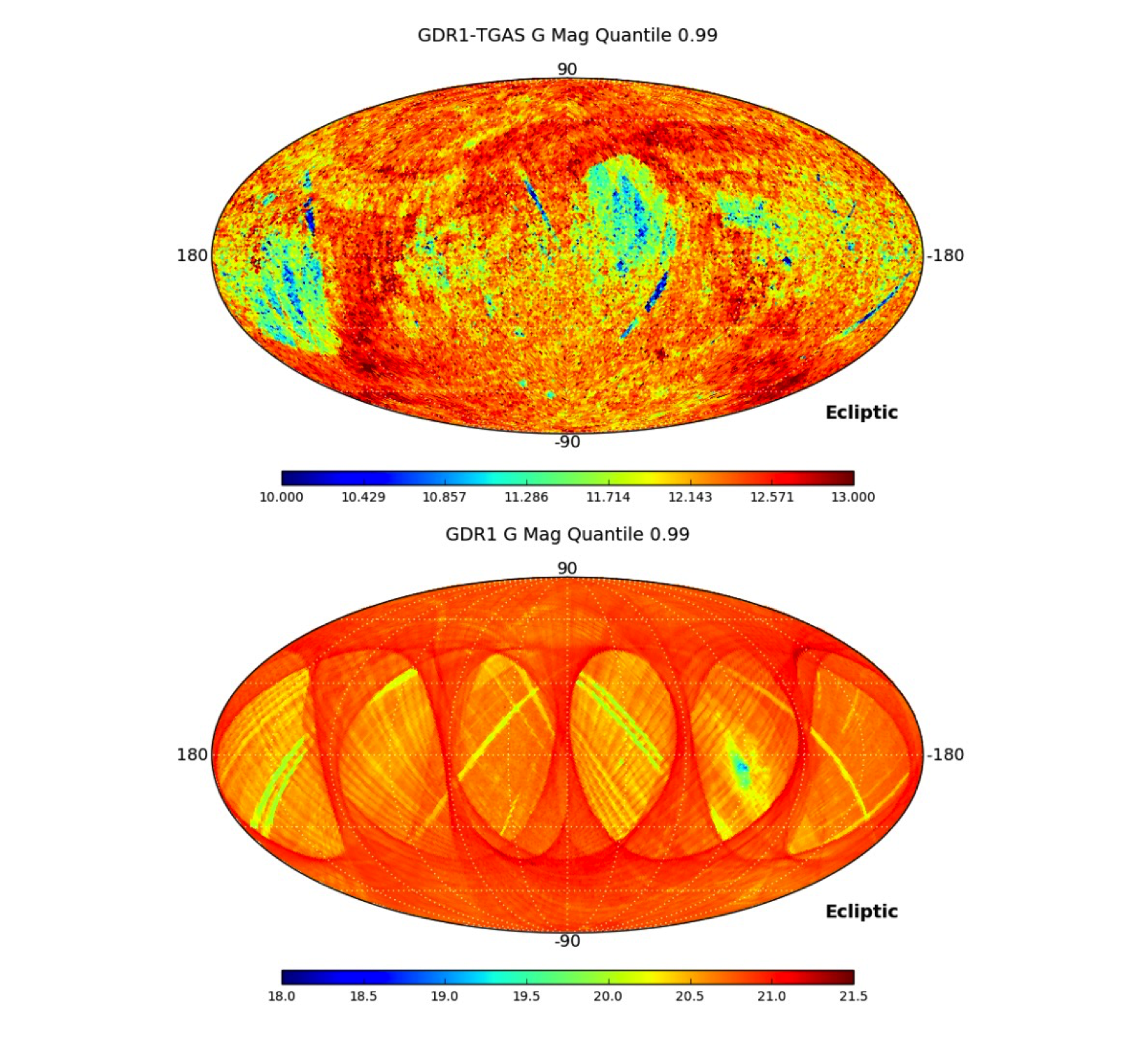 Figure 1: Limiting magnitude: 99th percentile of the G distribution in ecliptic coordinates: a) TGAS; b) full Gaia DR1 Catalogue (Image credit: ESA/Gaia/DPAC)
Gaia observes sources until magnitude 20.7 and sometimes even a bit fainter. In the first data release, Gaia DR1, only sources fulfilling a number of criteria were included, e.g., they should all have a certain minimum number of observations. Especially faint sources and sources in very dense fields did not always reach this minimum, and many sources will therefore only appear in later data releases.
The given images show the 99th percentile of the Gaia magnitude in 49152 regions of the sky, each covering 0.84 square degrees. This means that in each region we show the magnitude where 99% of the sources are brighter than that magnitude and the remaining 1% are fainter. In that way we get a good impression of how deep Gaia DR1 goes without the confusion of a few unusually faint cases.
Gaia observations are carried out along great circles maintaining a certain distance from the Sun. For this reason the images are arranged in Ecliptic coordinates. The bottom panel is for the full Gaia DR1 and clearly shows the imprint of the observational pattern. The six big loops are narrow areas where particularly many observations were made and where Gaia therefore could go deeper. There, the faintest Gaia sources may exceed the 21st magnitude at the end of mission.
Inside the loops, in contrast, is where fewer observations were made. The brightest point inside the second loop from the right is the Galactic centre, where we are up against both a very high star density and a relatively low number of observations, leading to a decrease of more than one magnitude for the faintest stars in this area.
The upper panel shows in a similar way the faint limit of the Tycho Gaia Astrometric Solution (TGAS). This solution, which is included in Gaia DR1, combines the Tycho-2 catalogue from the Hipparcos mission with the Gaia observations. Tycho-2 is almost complete until V ~ 11.5 mag and has only few stars fainter than 12 mag. The much more complex pattern in this diagram is a reflexion of the limitations of a long series of processes, starting decades ago with the Hipparcos observational strategy and with the construction of the input star list for Tycho-2, and ending with some specific issues for stars near 11th magnitude for Gaia DR1.
Both figures illustrate the complexity of the statistical analysis of the Gaia Catalogue content, which will improve in future releases with a larger number of observations. The diagrams were made at the Institute of Cosmos Sciences, University of Barcelona, for the paper on the catalogue validation of Gaia DR1 by Arenou, Luri, Babusiaux et al. published in Astronomy & Astrophysics.
Credits: ESA/Gaia/DPAC/CU9, Sergio Soria, Claus Fabricius (IEEC-ICCUB, Barcelona), Frédéric Arenou (Observatoire de Paris-Meudon)
[Published: 07/04/2017]