Image of the Week
DPAC Operations Rehearsal. Testing with Planck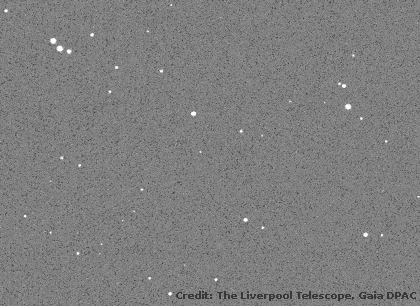 The Ground Based Optical Tracking (GBOT) group of DPAC is also part of the ongoing DPAC operations rehearsal. The Planck satellite was observed as target and this animation shows observations obtained during the night of Dec. 03 2012 with the Liverpool robotic telescope facility on La Palma (Canaries). Ten images of 30sec exposure time each, in the R band, are shown. Planck is the object close to the center of the image and moves with respect to the background stars. An area of roughly 5x5 arcmin on the sky is covered by the animation.
The Planck observatory is in an orbit around the L2 point, similar to the one Gaia shall be in.
The obtained astrometry of Planck was provided to the ESOC flight dynamics group as input to improve the orbit reconstruction of that satellite.
Image: courtesy I. Steele, J. Marchant (The Liverpool Telescope)
[Published: 10/12/2012]