Image of the Week
25 years since the initial Gaia proposal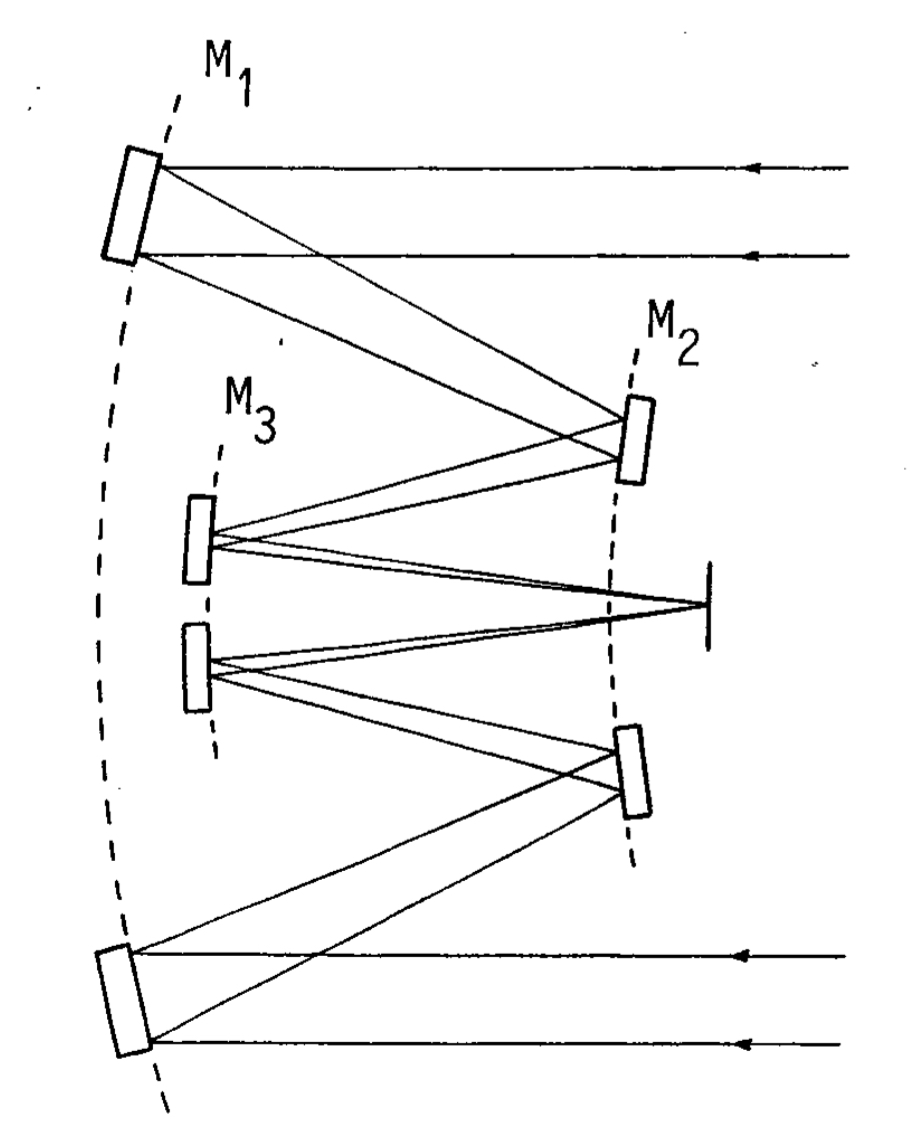 Figure 1: Each interferometer consists of two off-axis telescopes (as if cut out of a single large telescope), with a common focus. Three mirrors are probably needed to obtain a sufficiently wide field. (From the original GAIA Proposal by L. Lindegren et al.)
It is not easy to set an exact date to the birth of a project. Often, as in the case of Gaia, it is a fusion of several ideas that have been around for some time and which continue to develop over many years. But it can be claimed that the 12 October 1993 was a special day in the history of Gaia...
The ESA Hipparcos mission, launched in 1989, proved the feasibility of an entirely new concept in observational astronomy: global, absolute astrometry from space, using a scanning satellite. By 1993 it was clear that Hipparcos would become a major scientific success, in spite of its troublesome orbit, and astronomers were considering how to exploit the new paradigm in a future mission. Two techniques *not* employed by Hipparcos promised to provide radically improved scope and precision of such a mission: the use of CCD detectors for simultaneous observation of many stars, and interferometry for increased angular resolution.
Already in 1992 a concept for a rotating satellite using CCDs, the Roemer mission, had been proposed by Erik Høg and an improved version was proposed to ESA in 1993 in response to the M3 Call for Mission Ideas. The notion to use optical interferometry in space for high-precision astrometry had been around for some years, but always as pointed missions capable of observing only a small number of carefully selected targets. But it seemed impossible to combine the high throughput and survey character of a scanning mission with the high angular resolution and precision of interferometry.
The GAIA proposal, submitted to ESA on 12 October 1993 as a Cornerstone Mission concept for the post-Horizon 2000 planning, tried to do the impossible: using interferometry to increase the precision of a continuously scanning survey satellite. The name GAIA, an acronym for Global Astrometric Interferometer for Astrophysics, had been coined a month earlier by Michael Perryman, who drafted the proposal together with Lennart Lindegren.
The 1993 GAIA concept consisted of two mechanically connected Fizeau interferometers, each equipped with two 30 centimetre apertures on a 3 metre baseline (Figure 1), and an ingenious modulating grid (Figure 2) to record the motion of the interferometric fringes across the field of view. It was estimated that some 50 million objects to a limiting magnitude around V = 15-16 could be observed, yielding positions, parallaxes, and annual proper motions to an accuray of about 20 micro-arcseconds.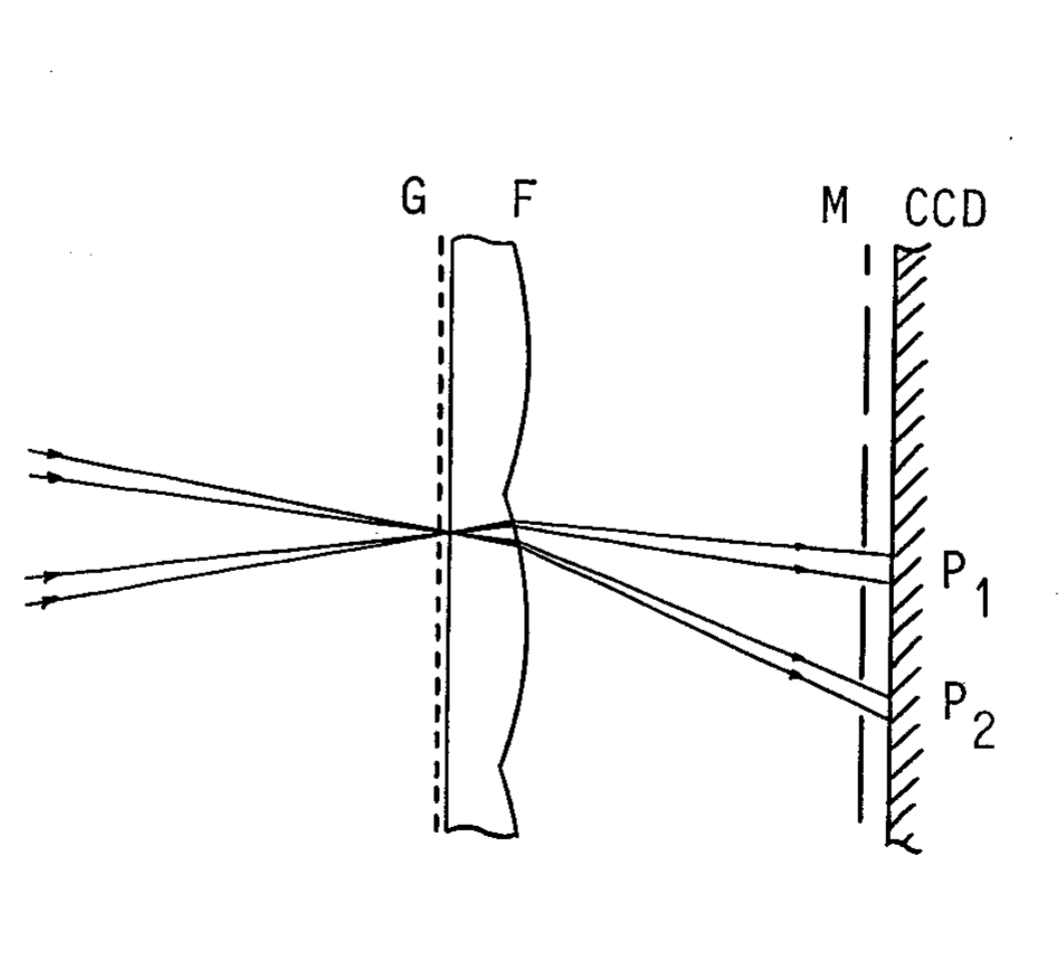 Figure 2: Part of the modulating grid (G) with an array of field lenslets (F) and detector (CCD). The two circular pupils of the interferometer are imaged on the CCD at P1 and P2. Diffracted (and unmodulated) light is masked off (M). The modulating grid may consist of a phase hologram, which doubles the light throughput; in this case P1 and P2 are modulated in anti-phase. (Not drawn to scale). (From the original GAIA proposal by L. Lindegren et al.)
A Fizeau (full-field) interferometer is essentially a big telescope, in which light only enters through two smaller apertures, so that only small sections of the mirrors are needed. Light from the two apertures combine in the focal plane to form stellar images interweaved by interference fringes. In contrast to the more familiar Michelson stellar interferometer, envisaged for pointed space interferometers and which only gives fringes in a very small field, the Fizeau in principle makes it possible to observe many stars in a large field of view at the same time - a prerequistite for a scanning mission.
Although even higher astrometric precision might be achieved by using a longer baseline, the proposed 3 metre was about the maximum size that could be accommodated in an Ariane launcher. The two interferometers in GAIA were set to point in different directions, forming a fixed basic angle as in Hipparcos and the future Gaia. The GAIA proposal was favourably viewed by ESA and technological studies of the concept started a few years later with Perryman as study scientist. Studies by Matra Marconi Space soon indicated that the use of a filled aperture was much superior to the interferometric configuration having two smaller apertures.
Using a sufficiently long focal length and a large focal plane it could be combined with direct imaging on the CCDs, thus dispensing with the modulating grid. This dramatically increased the limiting magnitude to around V = 20 and the potential number of targets to over one billion. The new concept had more features in common with the Roemer mission than with the original GAIA. While the name was retained the acronym had to be dropped, as Gaia is no longer an interferometer. It is now named after the ancient Greek goddess, the mother and spouse of Uranus.
The Gaia mission was approved on 11-12 October 2000 by the ESA Science Programme Committee.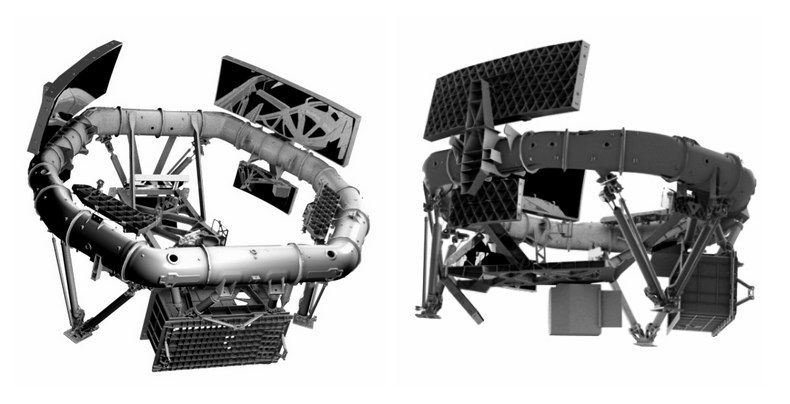 Figure 3: Schematic payload overview without protective tent of the current Gaia Space telescope. Image from Gaia Collaboration et al. 2016
More information on the Gaia Space telescope and its focal plane and optics can be found here:
The Gaia focal plane / Payload module: the focal plane
Gaia data release documentation on the spacecraft
Credits: ESA/Gaia/DPAC, L. Lindegren
[Published: 12/10/2018]