Image of the Week
European-Japanese collaboration: Nano-JASMINE and AGIS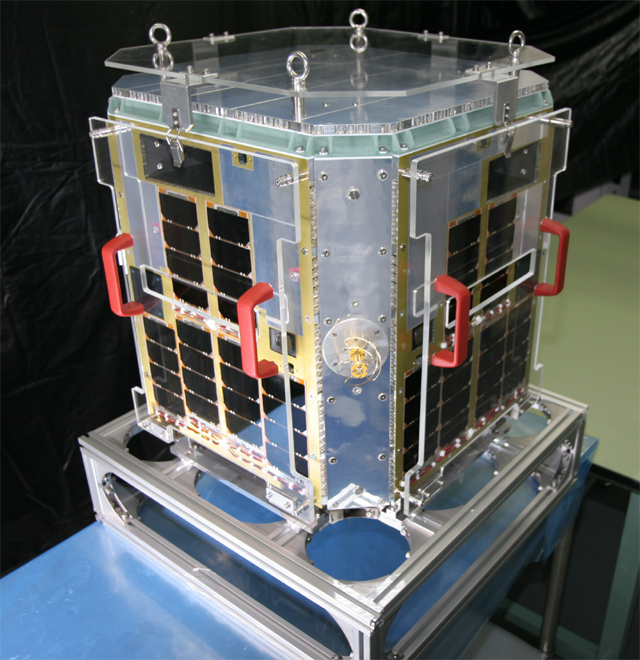 This week's Gaia picture features a small low-cost Japanese satellite called Nano-JASMINE, weighing a mere 35 kg with about the size of a small fridge. Is it the first astrometric mission of Japan and will determine the positions, proper motions and parallaxes of roughly a million stars within its two year mission time, providing a level of accuracy similar to Hipparcos (mas). Its purpose is the gathering of experience to prepare for the pointed infrared astrometry missions "Small-JASMINE" and "JASMINE" with an expected launch in 2016 and in the 2020s, respectively, which will augment the Gaia catalogue with objects hidden from Gaia's optical eyes through interstellar dust. Nano-JASMINE will be launched on a newly developed Cyclone-4 rocket from the Brazilian Alcantara space port into a sun-synchronous circumpolar low-earth orbit.
The AGIS team of Gaia supports Nano-JASMINE by providing the data processing with AGIS - thus giving the Gaia mission the benefit of a full test run with real observation data well before AGIS will run on any Gaia data. This will lead to a strengthening of AGIS' robustness and quality. Furthermore AGIS will be used to combine the resulting star catalogue with the 20 years old Hipparcos data. This way we aim to offer scientists around the world much improved proper motions leading to a better understanding of galactic dynamics.
We believe that this is a genuine demonstration of the cohesion within the world-wide astronomic community. We are looking forward to this collaboration and would like to express our best wishes for the foreseen launch in August 2011.
For more information, visit:
The University of Tokyo & National Astronomical Observatory of Japan website
Nano-JASMINE website
Picture: Nano-JASMINE flight model (courtesy of JASMINE team)
[Published: 17/11/2010]